It never ceases to amaze me what a little bit of paint can achieve! Take a cruddy old piece of furniture that nobody wants and make it into a unique masterpiece with just a little love and a little paint! One of my favourite types of paint to use is Milk Paint (specifically of the Miss Mustard Seed kind 😉 )

Milk Paint challenges my perfectionism and instead offers an unpredictable outcome…which I find strangely exciting!
Milk Paint in it's very essence is quirky, unpredictable and most certainly the most unique paint on the market. Because Milk Paint is a powdered paint made up of various coloured pigments, the colours are somewhat imperfect which is what gives the finished piece such a unique 'age old' appearance. Perfectly imperfect and a finish unlike any other type of paint. Add Bonding Agent for an opaque finish and distress (or not) however you please….or leave the Bonding Agent out and leave it to it's own devices to go 'chippy' at will. Yes I'm talking about it like it has a will of it's own….because it does!
There's no factory finishes and no 100% planned outcomes……basically it's a case of 'it is what it is'. I like that. It means I will end up with a unique one of a kind piece that can never be 100% replicated.
I picked up this little corner unit on our local buy and sell. Typical orange pine and generally unpopular in style. I challenged myself to turn this little unit into a French inspired piece that would be a statement piece in any French themed home. Here she is waiting for her makeover.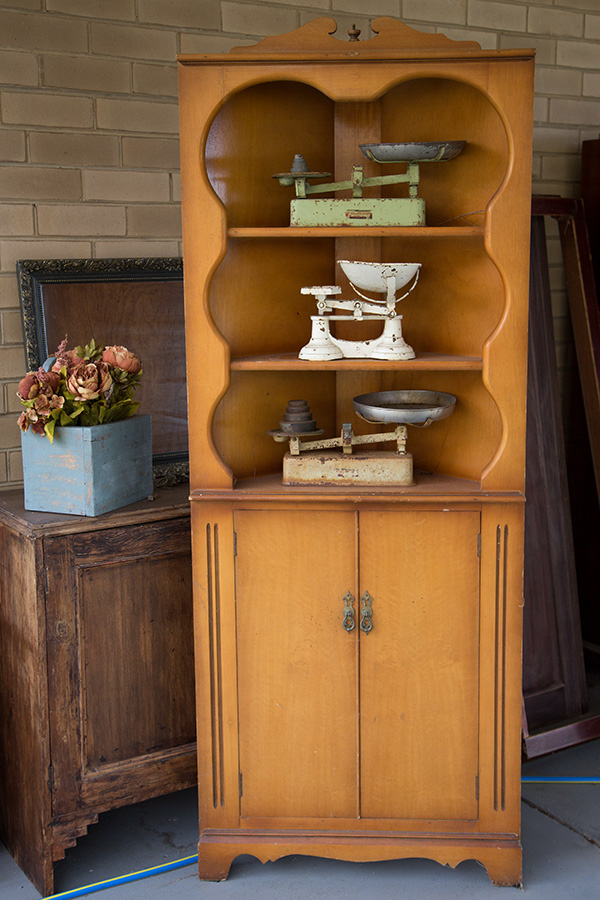 My first step in achieving  the French style I was going for was to add some pretty appliques. My favourite 'goto' appliques are from the Efex Decorative Appliques range which are made from bendable latex and so extremely versatile. They are bendable, paintable, stainable and easy to apply. I wanted 'pretty' so you can't go past bows and swags and the Federal Half Swag was ideal.


The half swag is generally used to make a continuous row of swags like this. How gorgeous is that effect!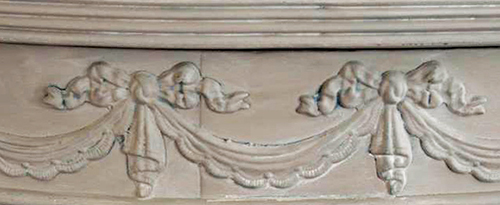 But if you wanted just the swag….you needed to buy two appliques just to get the end bow. I messaged the lovely Kristen from Efex with the suggestion that an end bow would make this applique more affordable and versatile. Within a few weeks Efex had added an end bow to the line up and sent me some of the first run to try out! You have to love a company who listens to what their customers want! Thank you Kristen & Efex Decorative Appliques! Here's the swag and the new end bow.


I got to applying the appliques and chose to add a single end bow to each side to tie it all together. I can see that just the bow alone will be a very popular applique!
At this point I took some video footage to show how to apply the appliques with contact cement but am yet to master the art of getting the video from my camera to my blog! Unfortunately I was so absorbed in taking the video I neglected to take still! So here's where your imagination comes in 😉 If I work it out I'll post the video in here down the track!
I chose my favourite Miss Mustard Seed colour 'Mora' – a beautiful silver grey with blue undertones from the European Collection –  as my main colour but first I painted a couple of coats of the newest addition to the MMSMP line up 'Farmhouse White'. Farmhouse White has really good coverage for a white and has more of a grey undertone than Ironstone. Truly a new favourite! (Incidentally….there is still ONE packet of Farmhouse White out there somewhere in Australia with a 'golden' (white) ticket hidden inside…and the lucky recipient will win $250 worth of Miss Mustard Seed products!)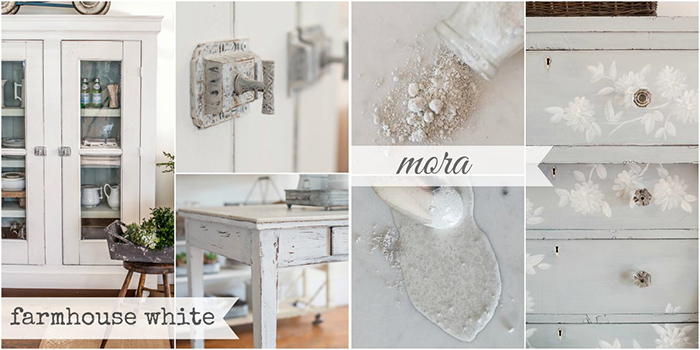 So without further adieu…here's my little French Corner Unit! What do you think? Would you recognise it?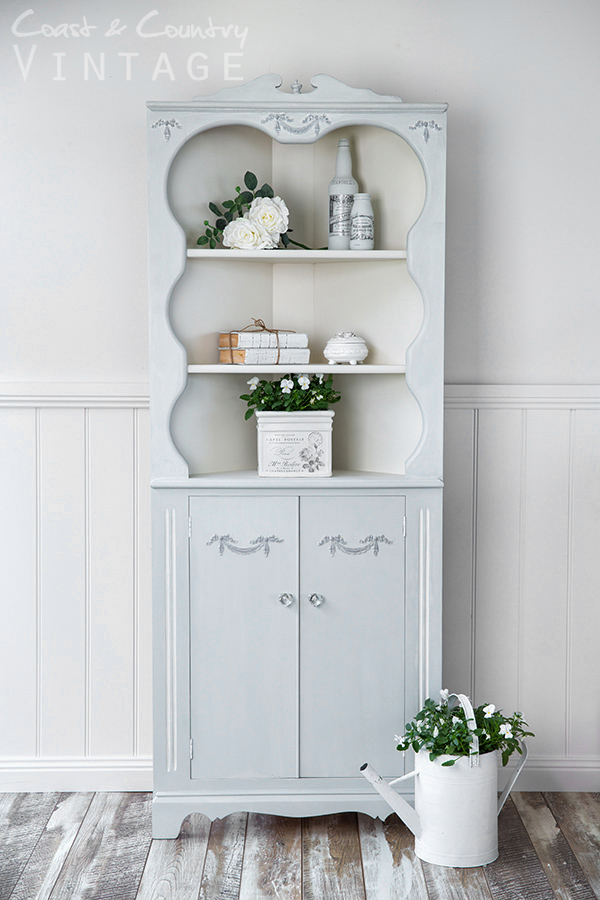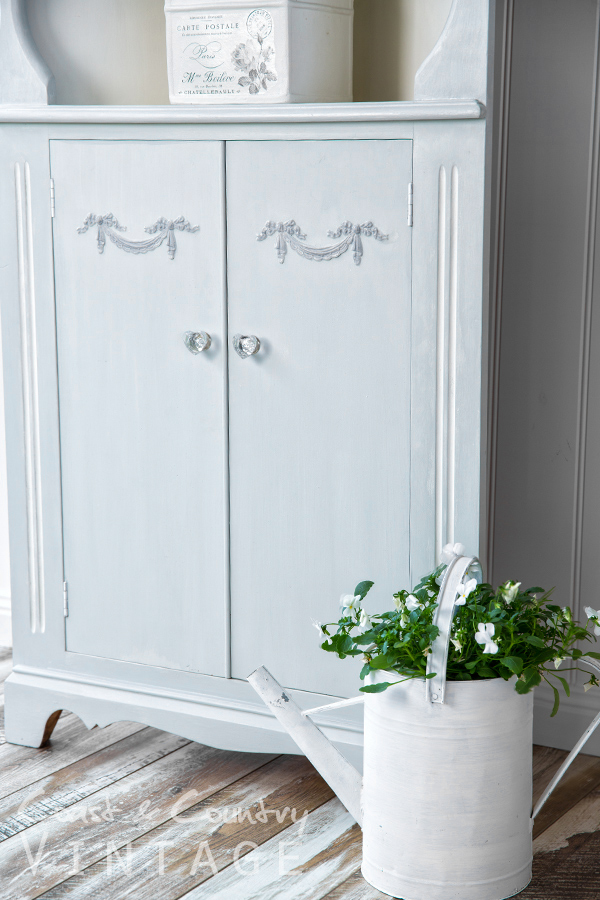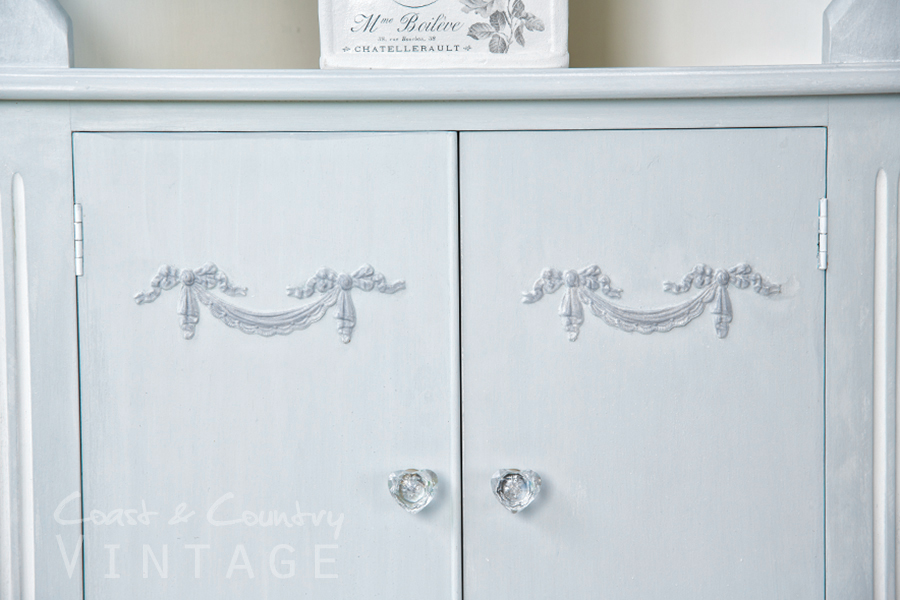 The whole piece was lightly sanded to a buttery smooth finish (very easy with Milk Paint) and sanded a little heavier in places to allow the Farmhouse White to peep through. It was then finished with Miss Mustard Seed's Clear Furniture Wax followed by a layer of MMS White Wax to complete the French look. Before waxing, the Efex appliques were dry brushed with the colour Bergere (also from the European Collection) so give them even more depth and the White Wax sits beautifully in all the grooves and highlights the details of the appliques.See how cute the 'end bows' look even on their own?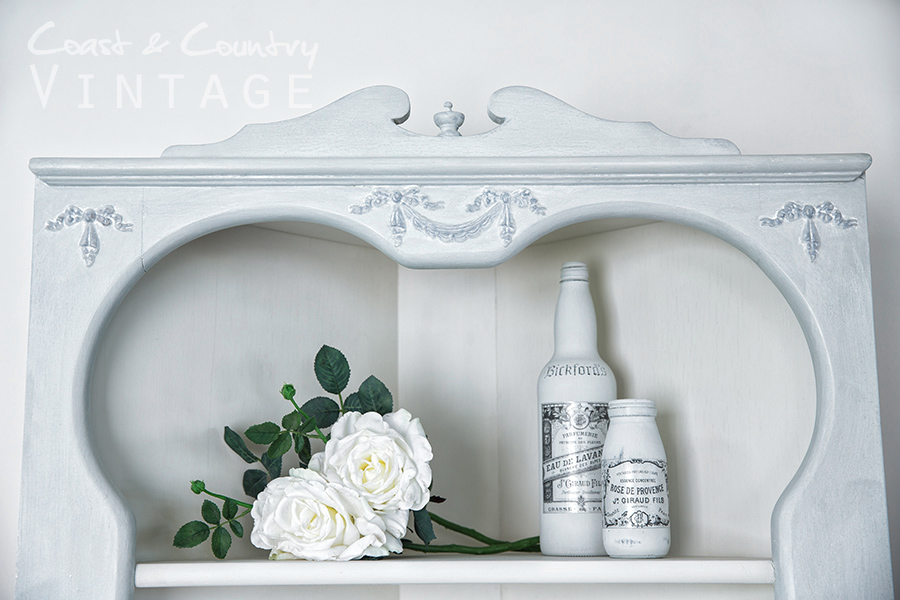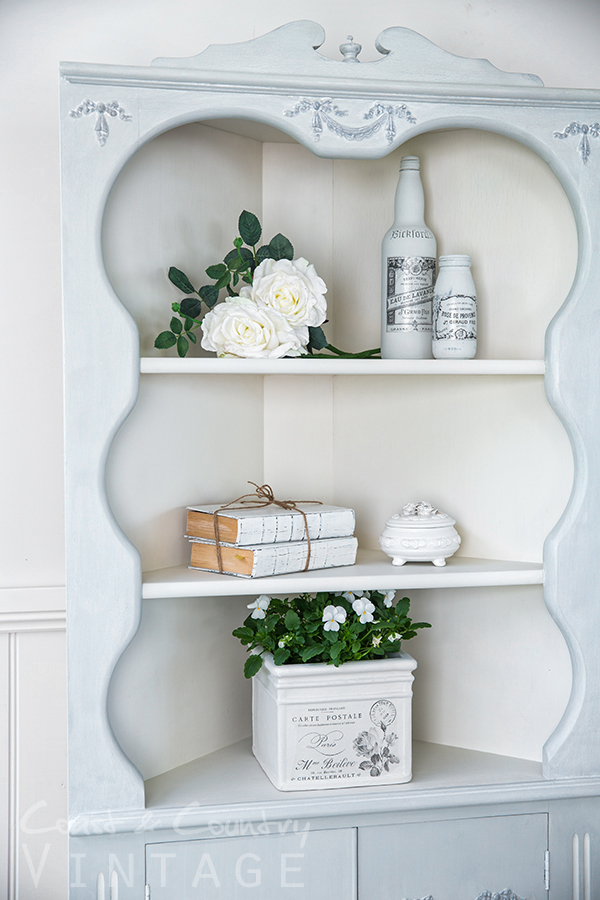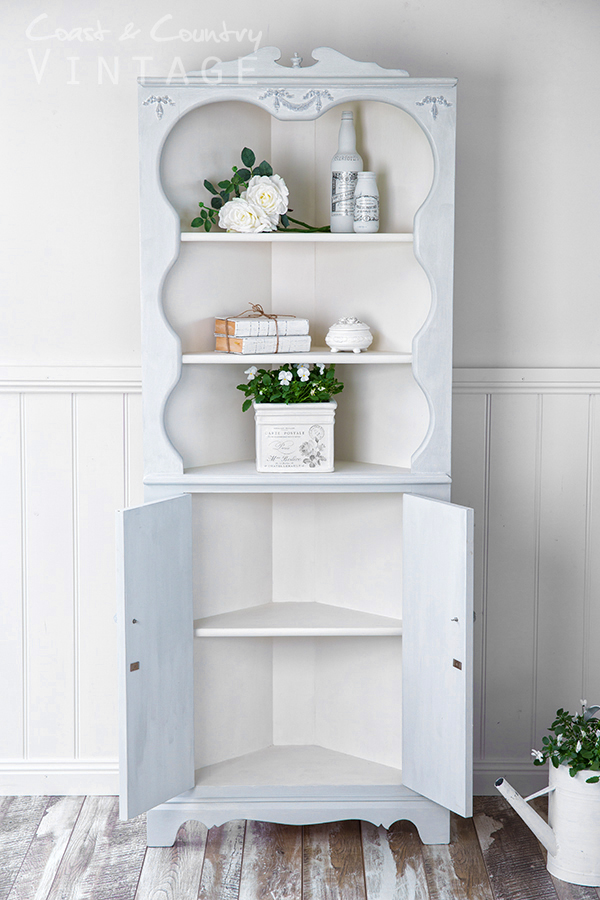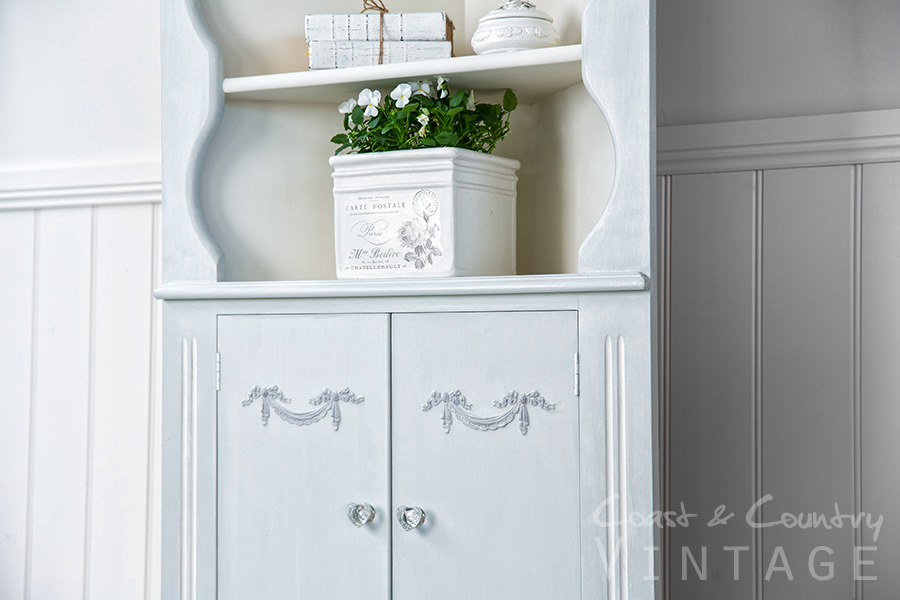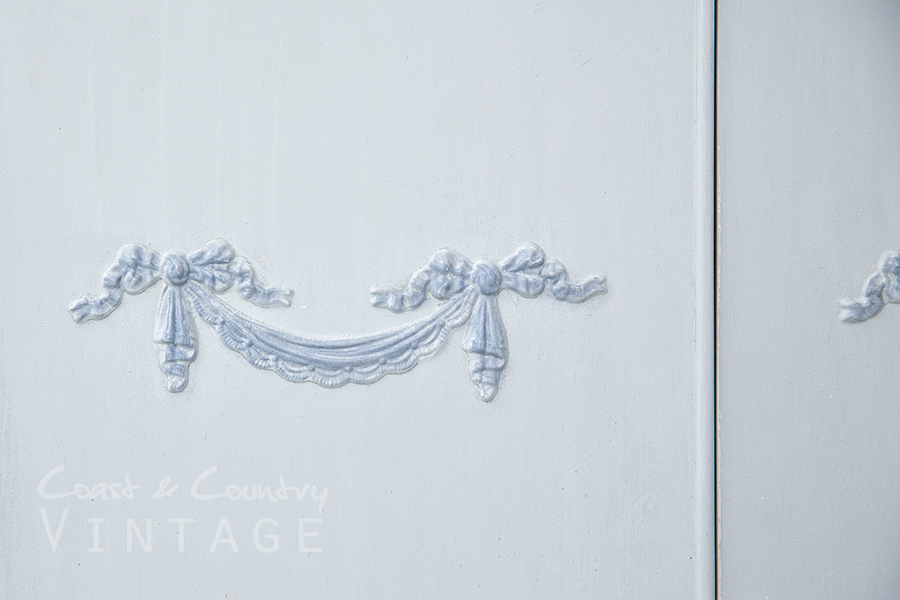 Before & After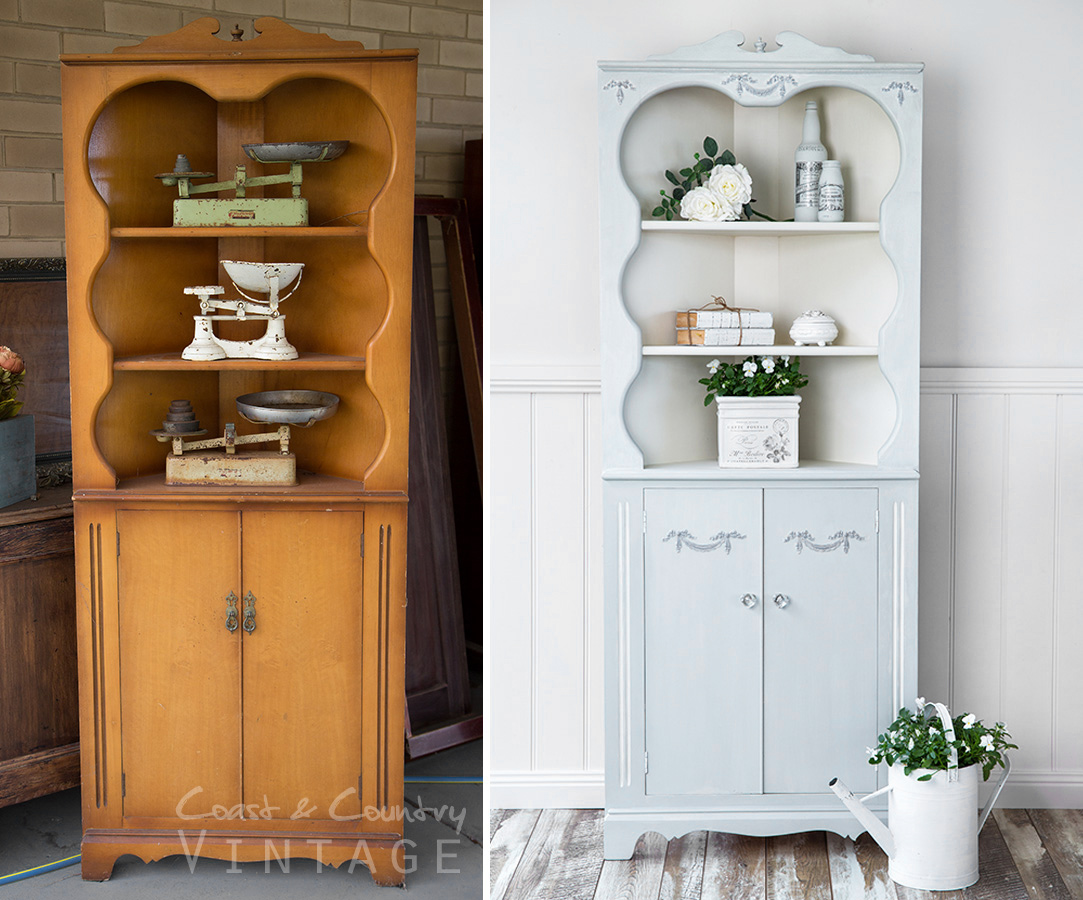 Here's a set of bedsides I painted with Mora a few months back. Read about that makeover here. Such a gorgeous colour!