This week I had fun playing with two new products! I LOVE new stuff!
I've been eyeing off the gorgeous I.O.D (Iron Orchid Decor) Transfers for some time now but it's only recently that I found they were available in Australia. I couldn't get them in my hot little hands quickly enough!
The transfers are like those little rub on transfers we had as kids….only these are ginormous! (well there's some smaller ones too……). They are mostly French Style but a few Vintage Style transfers as well.
Whilst my transfers were in transit I sourced the perfect piece to try one out on….this vintage blanket chest. The lady I bought it from had it for 40 years  and said it was fairly old then so I know it's genuine 'vintage'!
It also had a very uninteresting applique stuck smack bang at the front and centre of the box….but I was sure I'd be able to snazzy that up a bit. Here we go…..orange aged shellac……icky.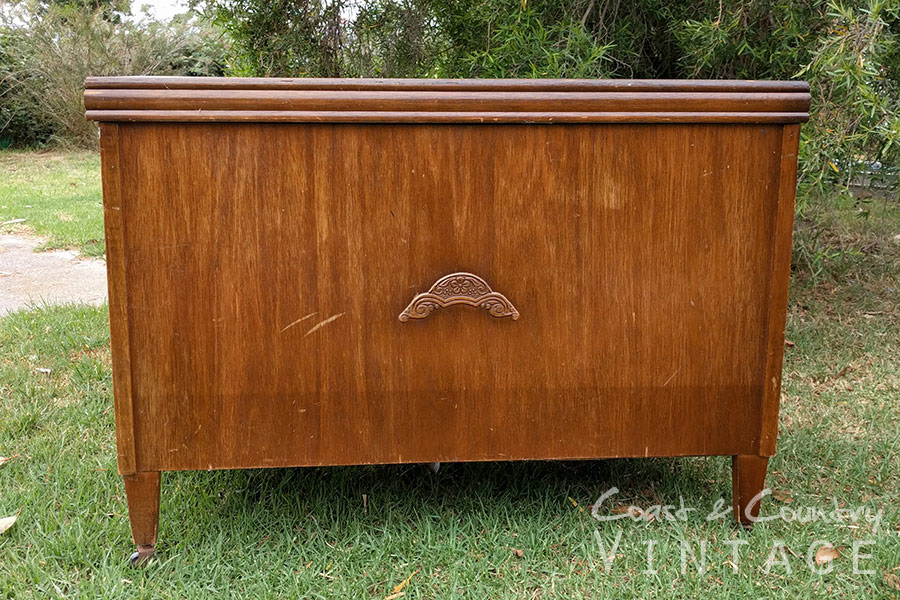 The shellac finish on this piece was very brittle and literally fell off with just a light sand with 180 grit sandpaper. I know a lot of paints advertise as 'no prep' and 'no sanding necessary' but my firm belief is that this statement is far too simplified and fails to address the fact that every piece of furniture is different and should therefore be evaluated individually. Had I just wiped this piece down my paint most certainly would not have stayed put long term and most likely would have ended up with bits of shellac flakes all through it.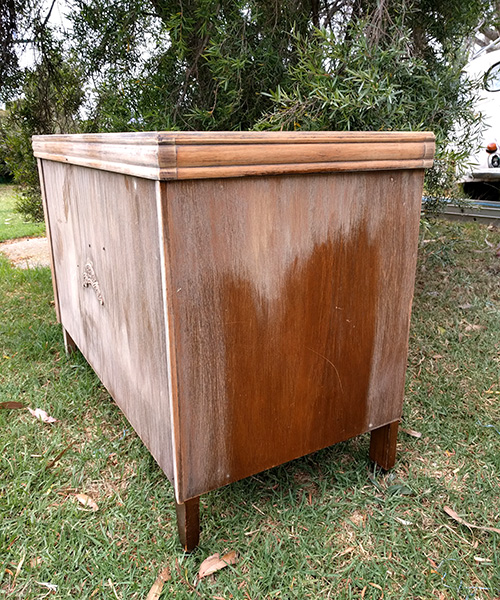 I wanted to road test one of the newest Fusion Mineral Paint colours 'Raw Silk' for this piece and was a little concerned that this piece may *bleed* so I gave it two coats of Zinsser Bullseye Clear Shellac before I started painting the light colour.
Here's a pic of Raw Silk. Isn't it gorgeous!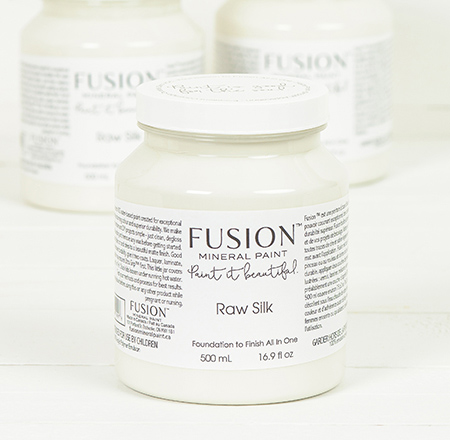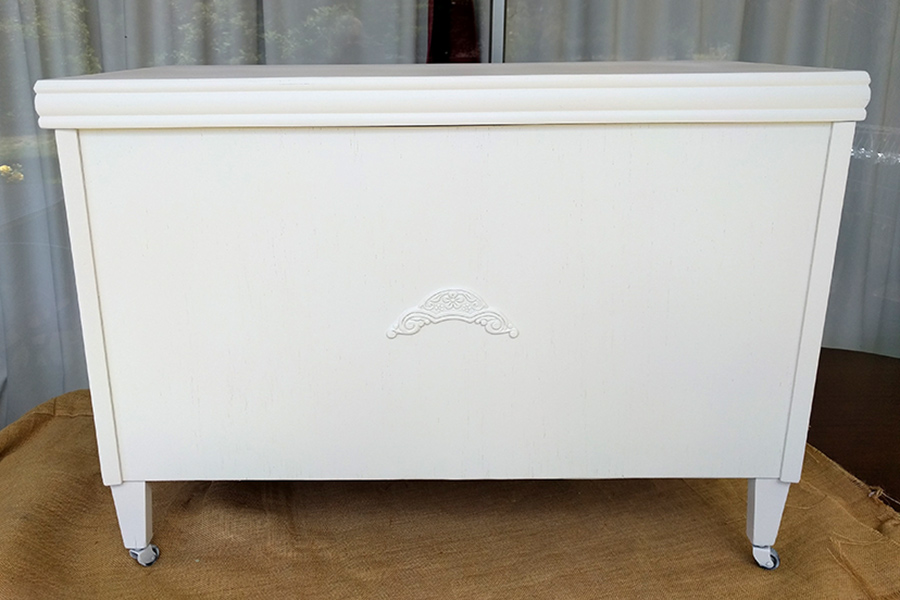 Here she is with a few coats of Raw Silk. Excuse the crummy phone pic! Such a pretty colour….somewhere between Casement and Champlain in colour. Looks nice…certainly a lot fresher…but I certainly wasn't about to deviate from my transfer plans!
I didn't take any photos whilst applying the transfer as that would have been a bit tricky but it was SO super easy! The transfers can be applied in the order they are printed in or you can cut them apart to suit the layout of your piece or to use on multiple pieces. The position of the existing applique turned out to be far more restrictive than I envisaged so I needed to mix my transfer up quite a bit to make the layout pleasing and balanced! I had a giggle to myself wondering what a true Frenchman would think reading my wording that was essentially all the wrong way around…but hey it looks pretty so I'm happy enough!You simply peel the backing paper off the transfer , lay it down on your painted piece and use the rubbing stick (supplied) to rub the transfer on. This whole transfer only took about 20 minutes!What do you think?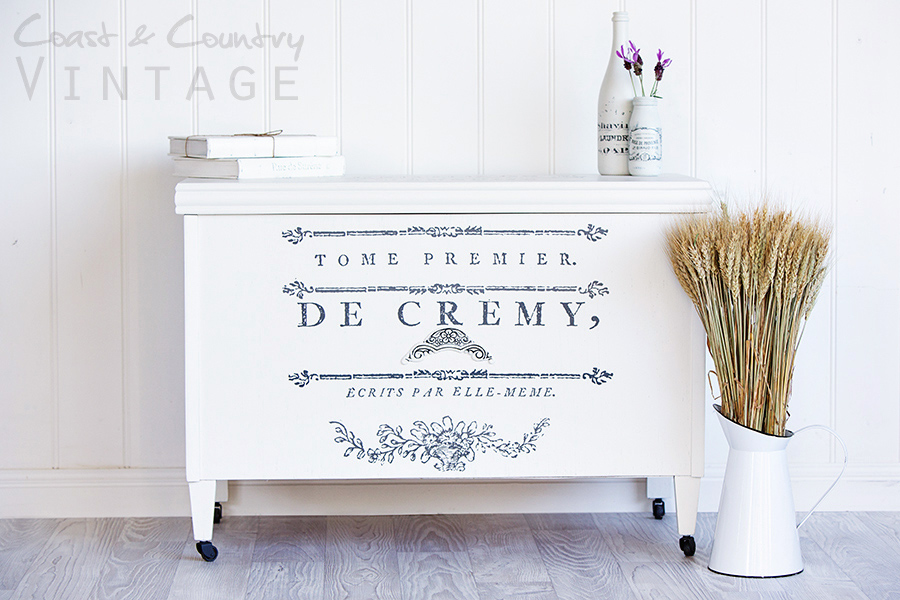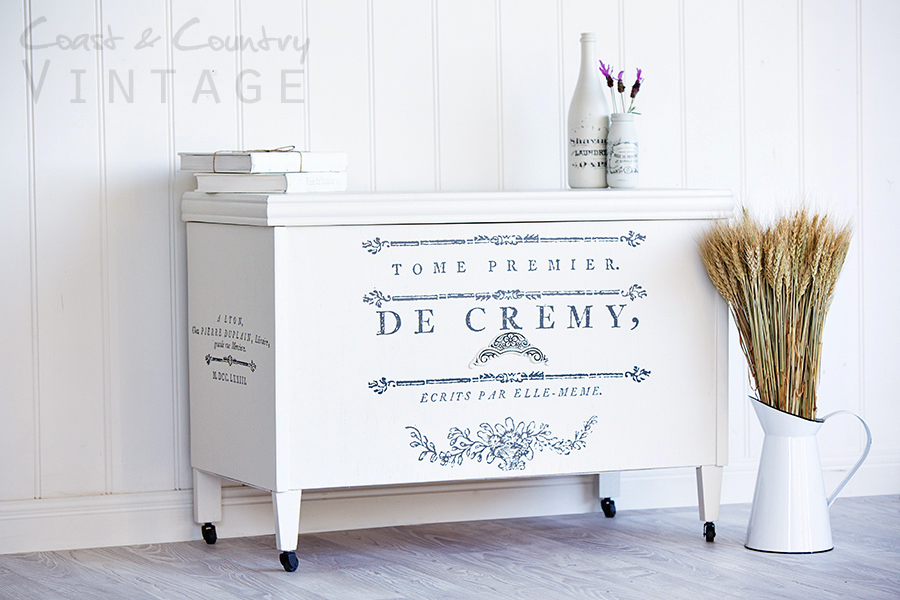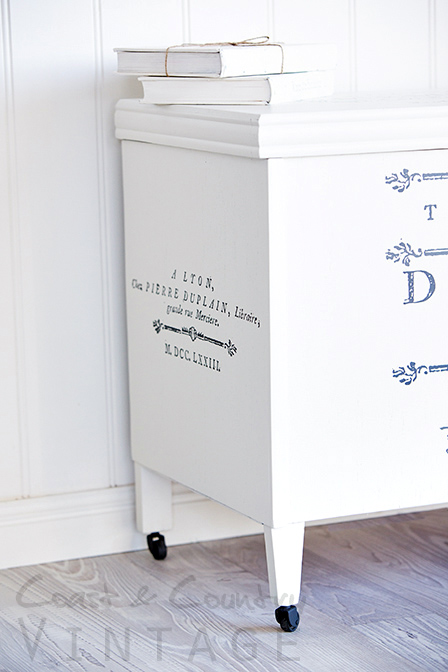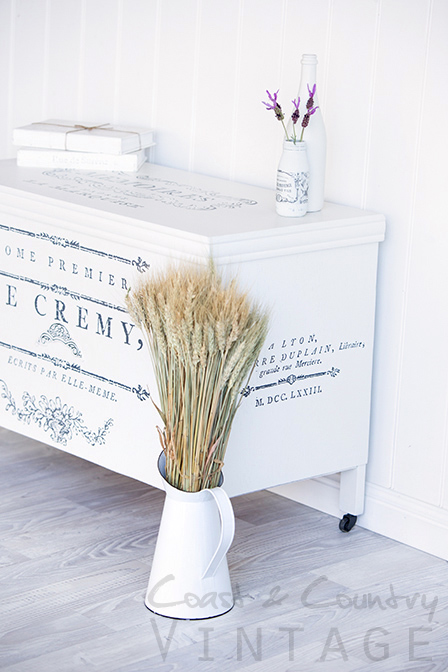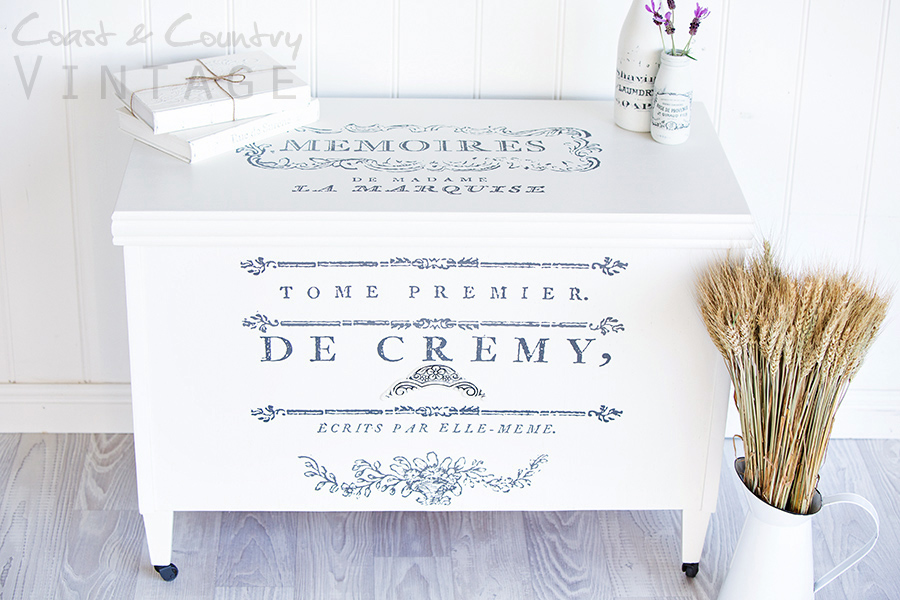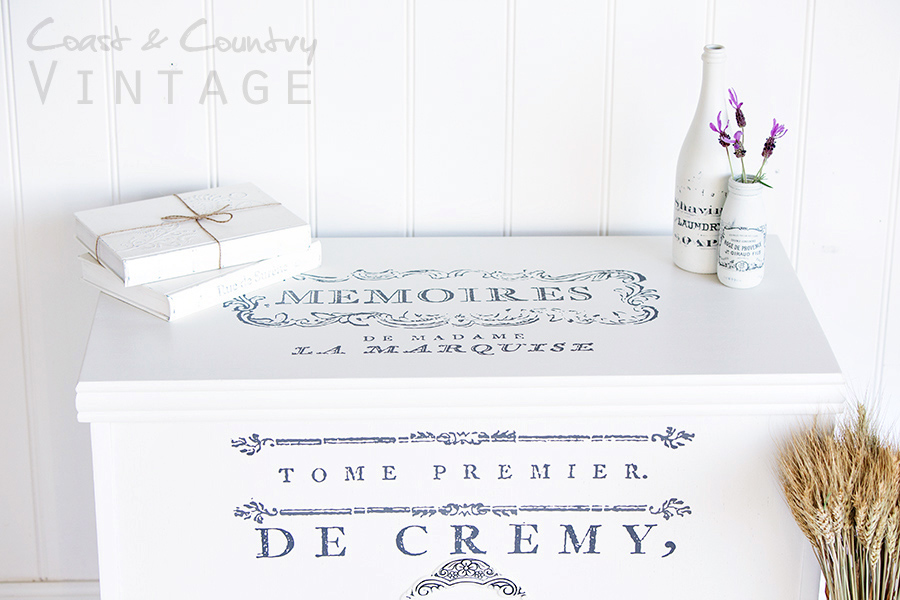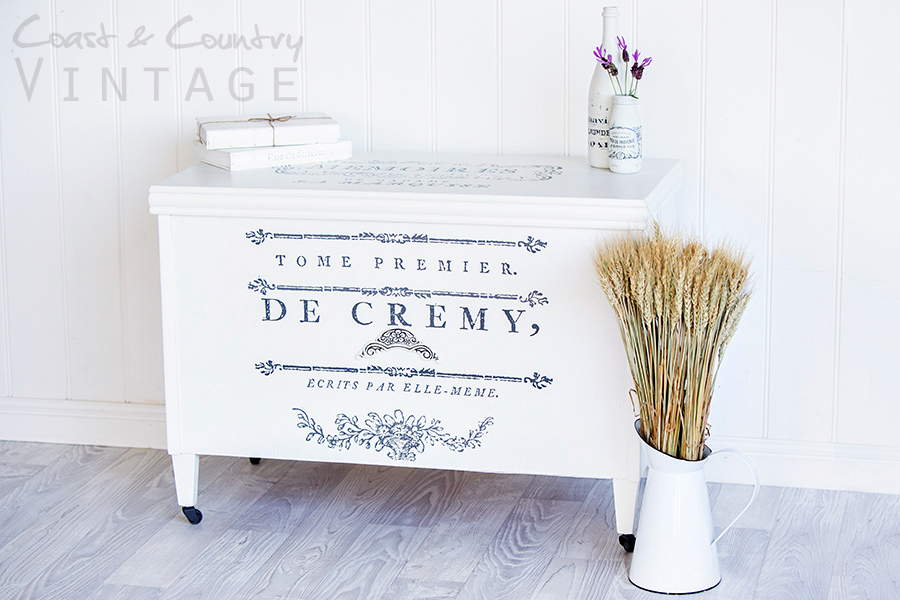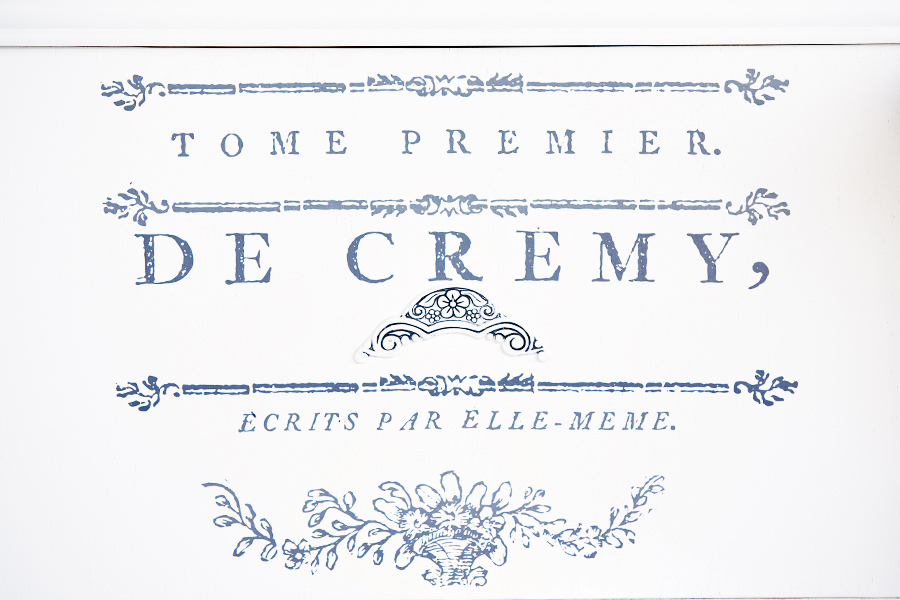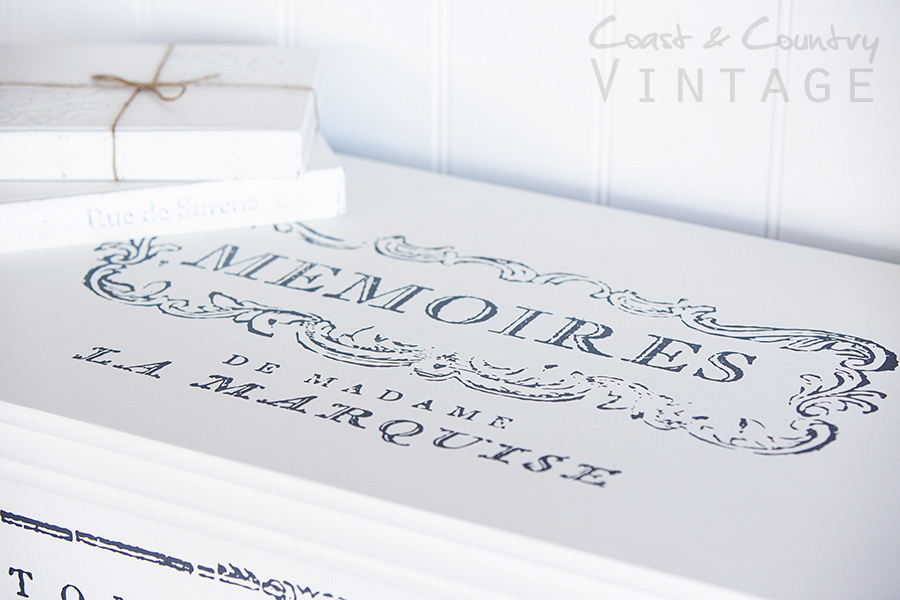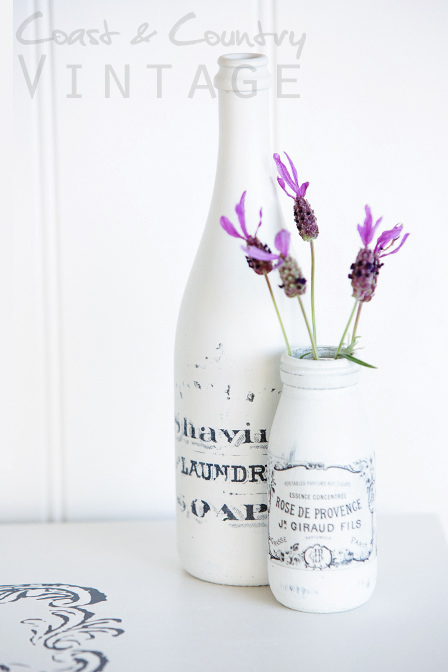 I often paint the interiors of my pieces but this was in such great condition that I chose not to.
One of the things I LOVE so much about Fusion Mineral Paint is that is doesn't require a top coat. True! No waxing necessary……BUT when using the IOD Transfers it's recommended that you do use a sealer to help preserve the transfer. Enter Fusion Tough Coat! Tough Coat is a matte finish water based polyurethane that is guaranteed not to yellow. It's been tried and tested so you can confidently use it over your lights and white without any concern that it may change the colour. The best part is it's so easy to use, either with a paint brush or as a wipe on poly (my choice for flat surfaces). And it dries super quick…touch dry in about 15 mins and re-coat in two hours. What's not to love. 🙂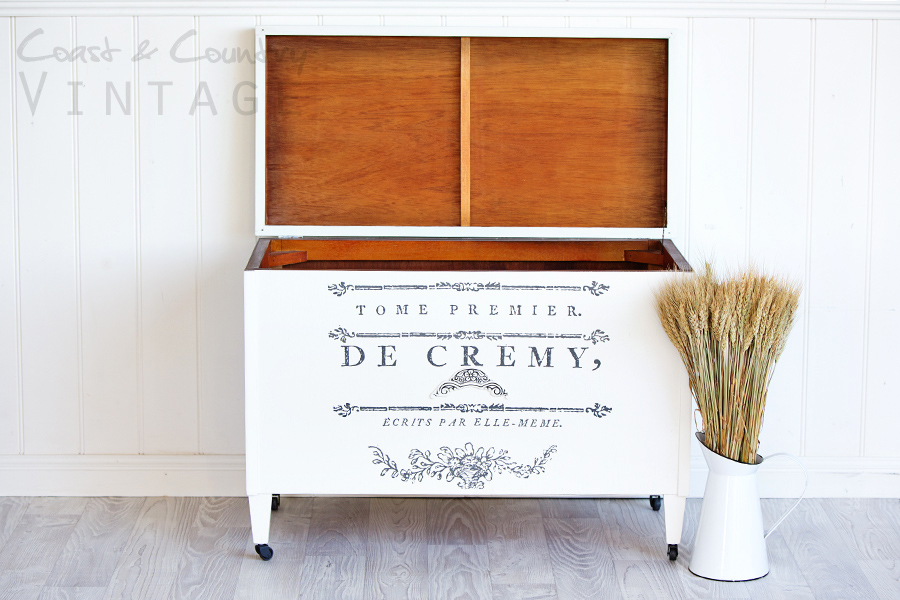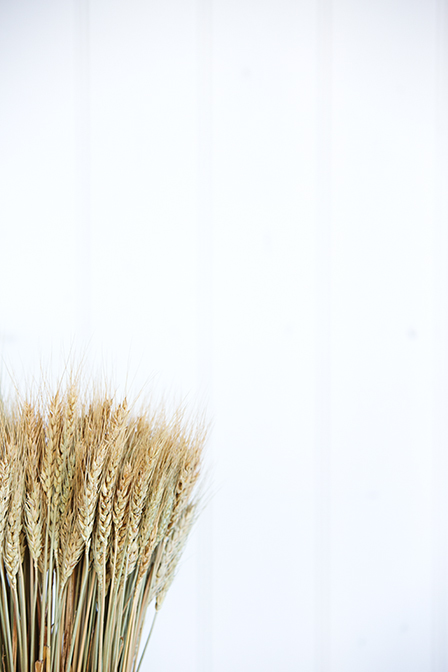 The IOD Transfers are now available for purchase in both my stall spaces, Waverley Antique Bazaar (Stall B4) 11a Aristoc Rd, Glen Waverley & Cowes Bazaar & Gallery (Stall18), 158 Thompson Avenue, Cowes, Phillip Island. They will also be available from my website in the next few days! Get one today! You've LOVE them!
Stay tuned for an introduction to the IOD Vintage Stamp range coming to Coast & Country Vintage soon too! The stock is here….just playing a bit before releasing it all to you guys….but I'm telling you it's delicious! Be sure to pop over and visit the official Iron Orchid Decor Website for more inspiration and eye candy!