A  child/baby safe paint has been seriously lacking for a long time now in the furniture painting market. Jennylyn Pringle at Fusion Mineral Paint wanted to develop a paint that was TRULY zero VOC and non-toxic for you and your loved ones. Through years of development they have achieved this without sacrificing quality and durability. Fusion is a best-in-class paint that features an environmentally and health conscious formulation!
Babies and young children are more susceptible to the health risks associated with VOCs (volatile organic compounds aka nasties). Fusion Mineral Paint is lead free, phlalate free, formaldehyde free, ammonia free, virtually odourless and is Zero VOC.
Fusion cares about you and your wee ones. The Tones for Tots collection complies with both the lead and phlalate restrictions of the Toy Safety Standards of North America and Europe, as well as the ASTM D4236 LHAMA safety labelling requirements.
Now that's peace of mind! The Fusion Tones for Tots range comes in 7 adorably delicious colours just right for the little ones in your family or even the not so little!

I decided to create my first Tones for Tots makeover in the delicious pastel pink aptly named 'Little Piggy' with accents in 'Little Stork' which is the palest Lavender shade. Yummy!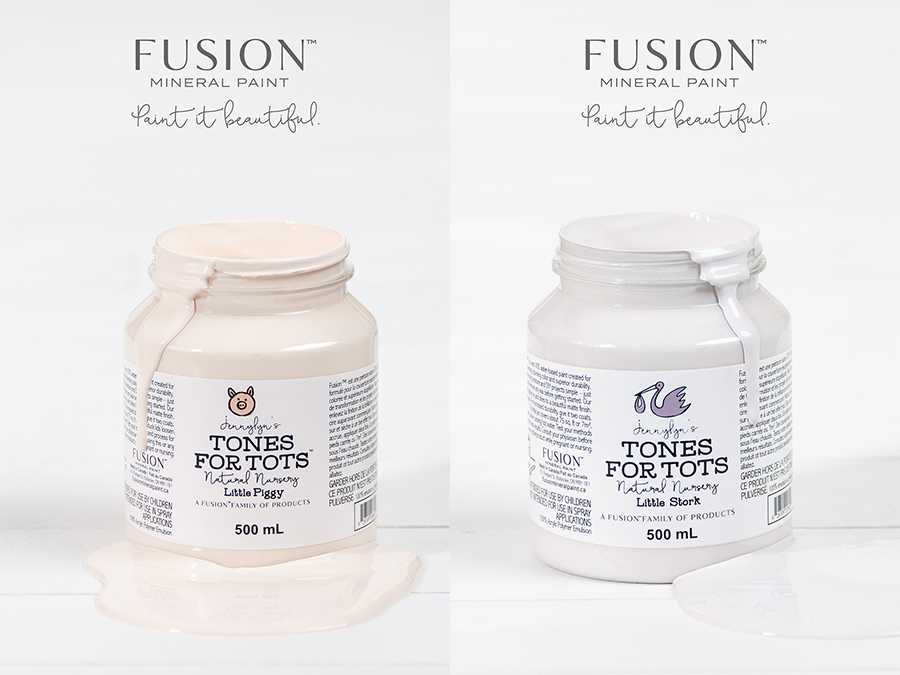 I've had this piece in the shed for some time now and it gradually got covered in 'shed junk' until it could barely be seen. (this pic was taken after junk removal!)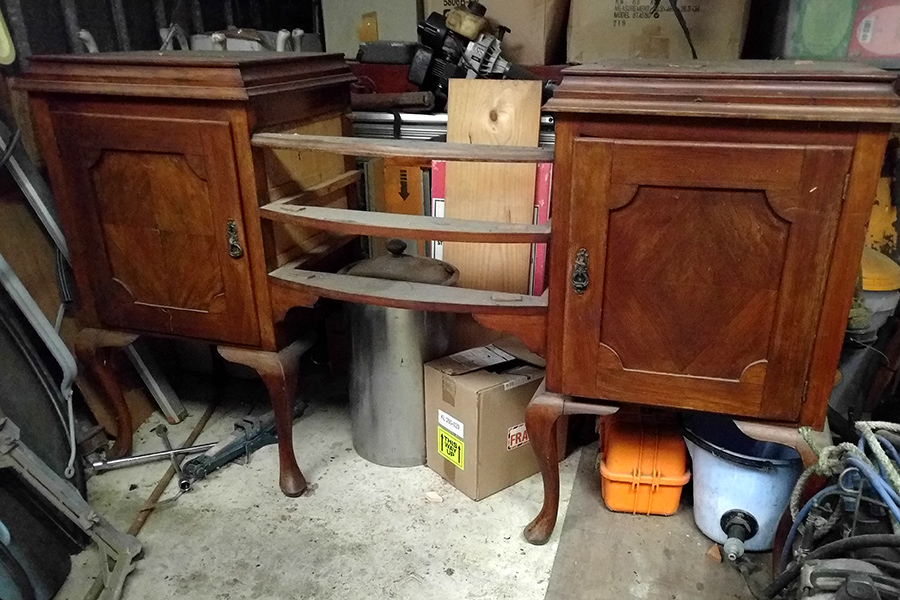 It was one of those pieces that I bought home without checking it properly and the backing and draw liners were quite borer damaged. It got put in the too hard basket (aka shed) where it stayed for two years. For some reason a soon as I saw the new Tones for Tots I decided that it would be super cool to dismantle that piece and make 'his and hers' cupboards from the ends. Simple right? Nope. Nothing is EVER that simple. Just pulling them apart was enough to have me stomping my feet and considering a bonfire…….thank goodness for helpful husbands!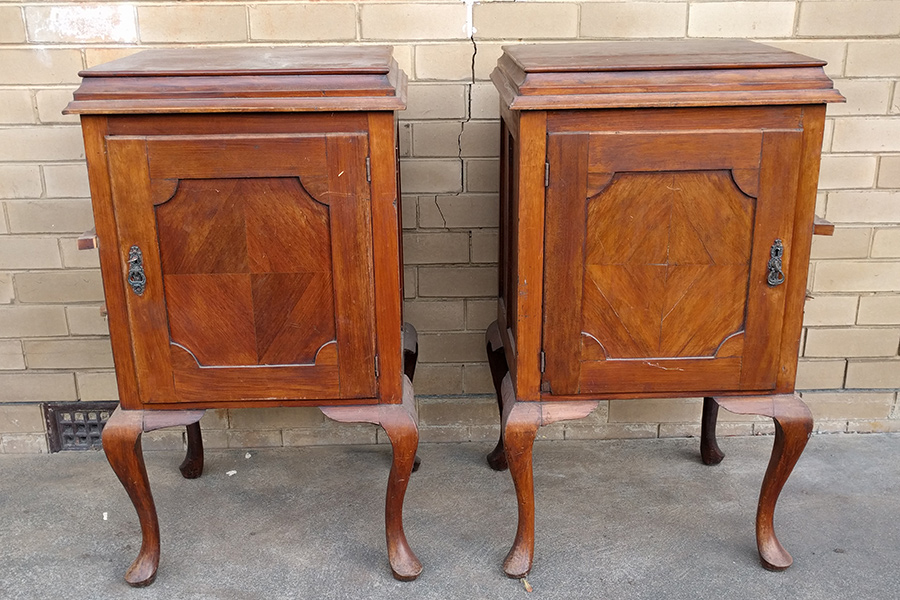 I was pretty excited about the whole 'his and hers' idea, one in Little Piggy and one in Little Speckled Frog with a different one of the gorgeous Tones For Tots Stencils on each door. One can dream right?
The end result of cupboard number one was just beautiful….but so much repair work (I had to add a new backing, shelving and repair the damage from where we had removed the centre part of the original sideboard and create a false panel so both sides matched) that the other piece has returned to the too hard basket (aka shed). On the upside, my woodworking skills are ever expanding!
I am pretty smitten with the end result of the Little Piggy cupboard though and I can now say it was worth it! The colour is just perfect both for little girls and big girls.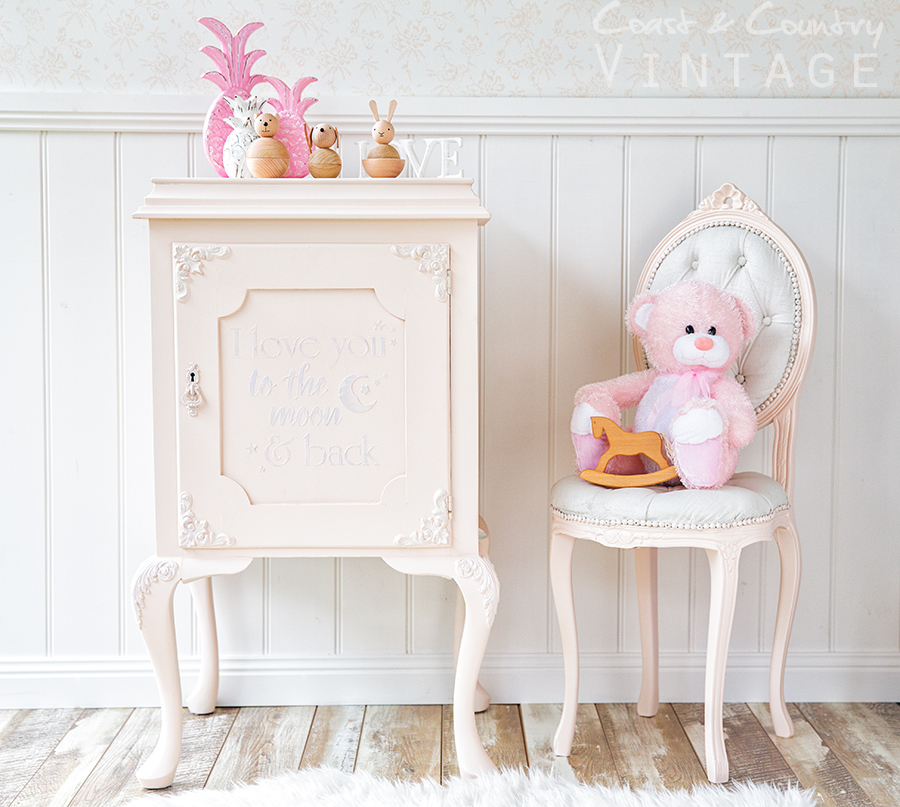 I prettied the cupboard up with some Efex Decorative Appliques on the door and legs and dry brushed those with Little Stork. Subtle but sweet. Efex are made of latex and completely bendable. They are so easy to use and apply and add extra wow factor to any piece!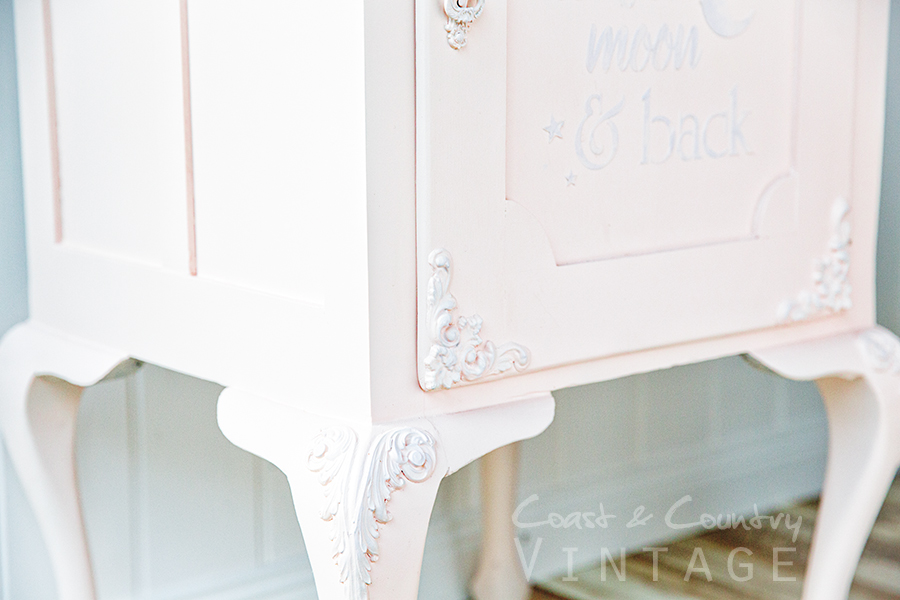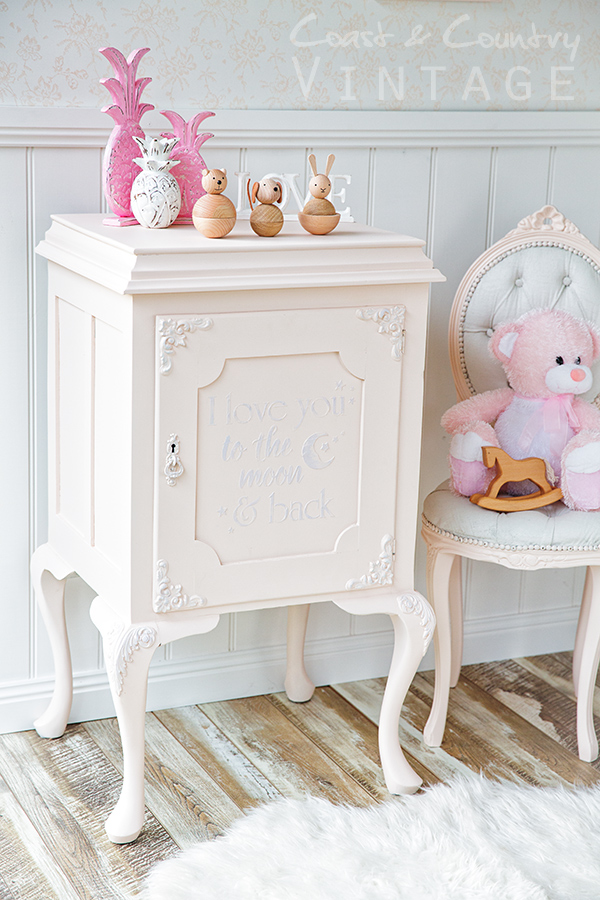 To add a little more dimension, I used the Fusion Sandstone Texture medium to make the stencil on the door into a raised stencil and again dry brushed the raised areas with Little Stork. It's a little hard to see in the photos as it's so subtle. Here's a close up of the stencil. The colours are a bit funky in this image.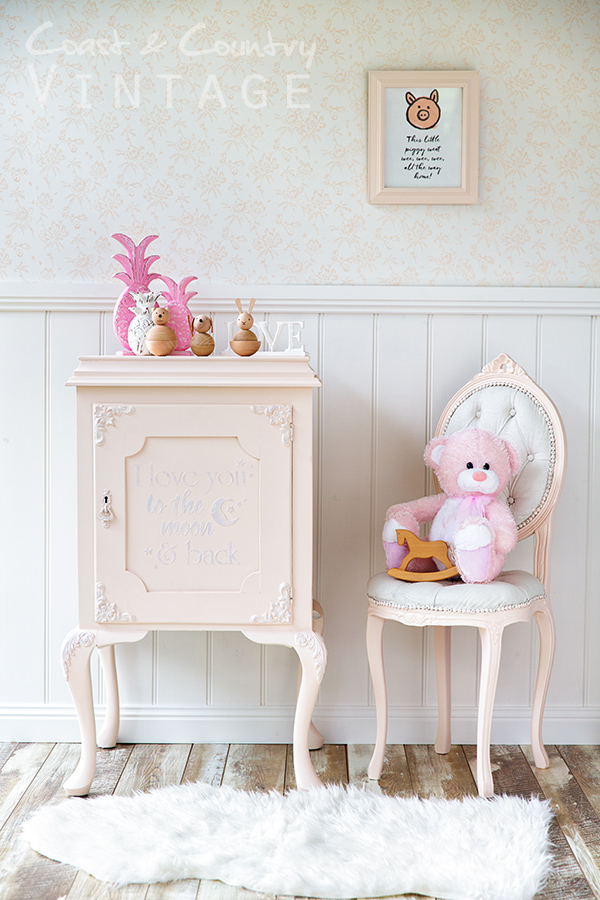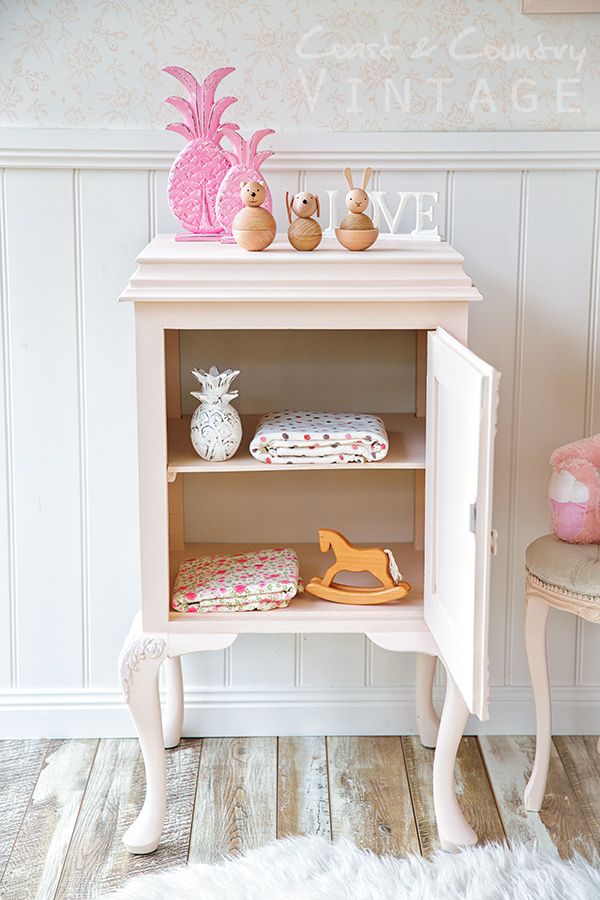 The adorable accessories used for styling this photo shoot are from chic online business Moose In The Moon.
Moose In The Moon  is a business committed to providing super cool products for babies, kids and parents that are safe for children and ethically sourced – supporting products that are not produced at the expense of anything else: people, animals or the environment.
When Moose In The Moose owner Karen was pregnant with her darling son and once he was born, she went to great lengths to find the most safe, beautiful, fun, natural and non-toxic products for both her son and herself to use and enjoy and that were kind to the environment too. "We, like every other parent, wanted to give our precious child the very best start in life that we possibly could – so keeping his magnificent little body and brain free of anything nasty was and is simply a must for us. We're so happy to be able to provide a curated content of mostly handmade and made in Australia". 
Make yourself a coffee and pop on over to Moose In The Moon to browse the range . There's everything from ornamental decor and accessories to designer cot sheets and kids clothing.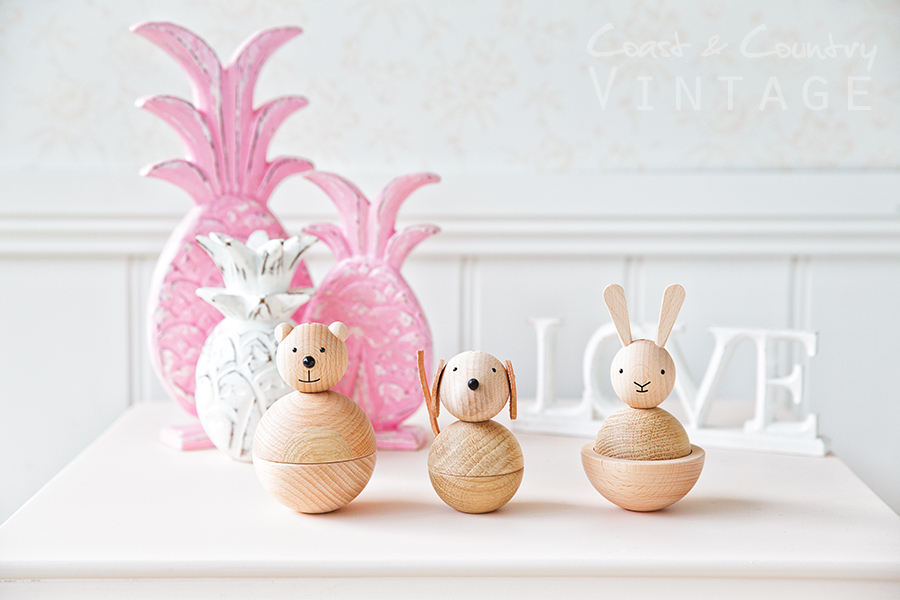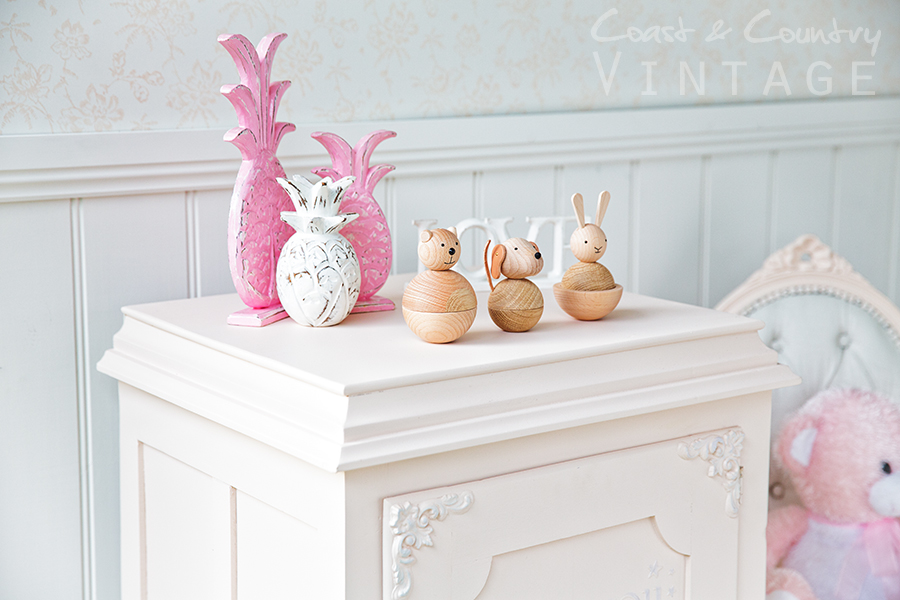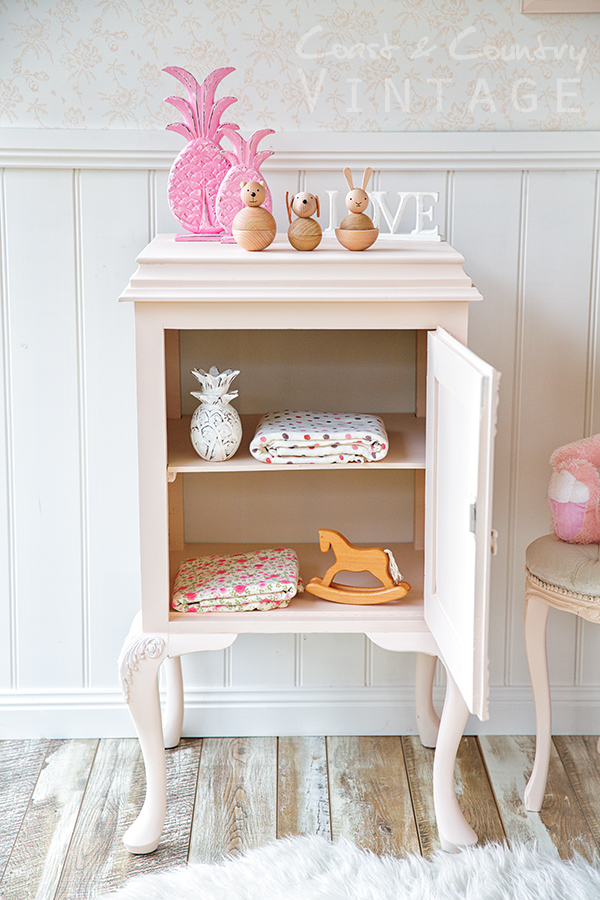 The little chair was a $5 purchase from the Op Shop and my first foray into painting fabric….but that's another post. Pretty cute huh?
It's actually not quite finished as it needs proper braid around the edges but i so wanted to use it for this shoot. Painted in Little Piggy & Champlain…which looks silver even after four coats of paint.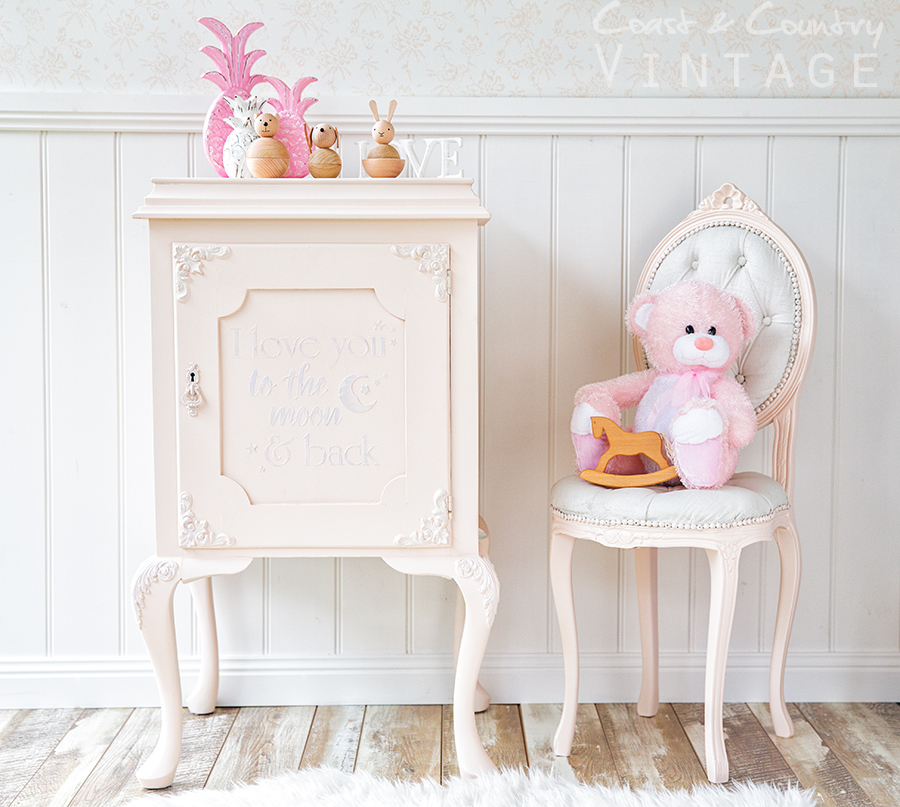 Of course as with every piece I hand paint, I used one of my trusty Cling On Paint Brushes which are fabulous for reducing brush marks (especially with Fusion….match made in heaven!)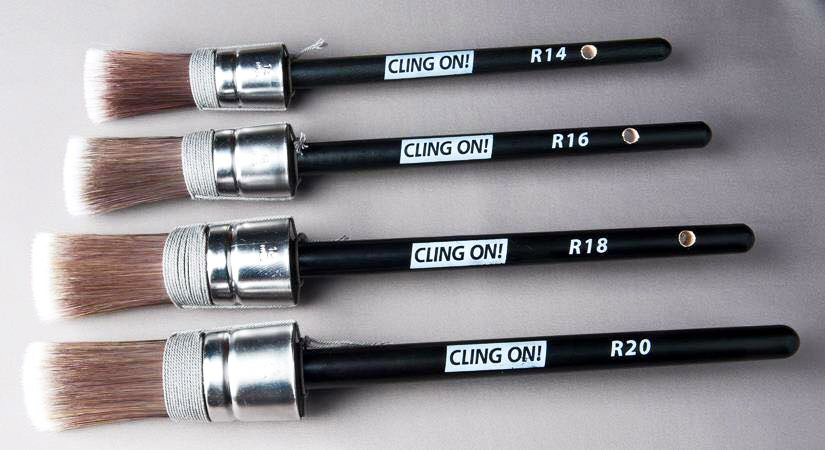 And a Before & After.