Not only is this the BIGGEST piece I have hand painted with beautiful Miss Mustard Seed's Milk Paint….it's also the quickest! That has to be a record on many levels!
I desperately needed a piece to display my Miss Mustard Seed's Milk Paint in and I needed it fast!
Despite the size of my 'waiting patiently in line to be painted' furniture stash (or pyre as it's affectionately? known to my hubby 😉 ) I found it lacking in a piece sizeable enough to suit the purpose of a display for my store…..so off to eBay I went. (any excuse right!)
I watched  and waited patiently for 3 weeks…looking for just the right piece. As luck would have it…..all the larger  three door display cabinets or hutches were going for around $150 which was quite a bit more than I wanted to pay. BUT, my patience finally paid off and I scored this FOUR door beauty for just $43!
I also stock Efex Decorative Appliques which I am Melbourne's largest stockist for and i wanted to incorporate some Efex in this piece! Efex Appliques are an innovative new style of decorative appliqué made entirely from latex…which means they are bendable and therefore extremely versatile. They will jazz up even the dullest piece and give it pizzazz! I have used them on this piece…read on!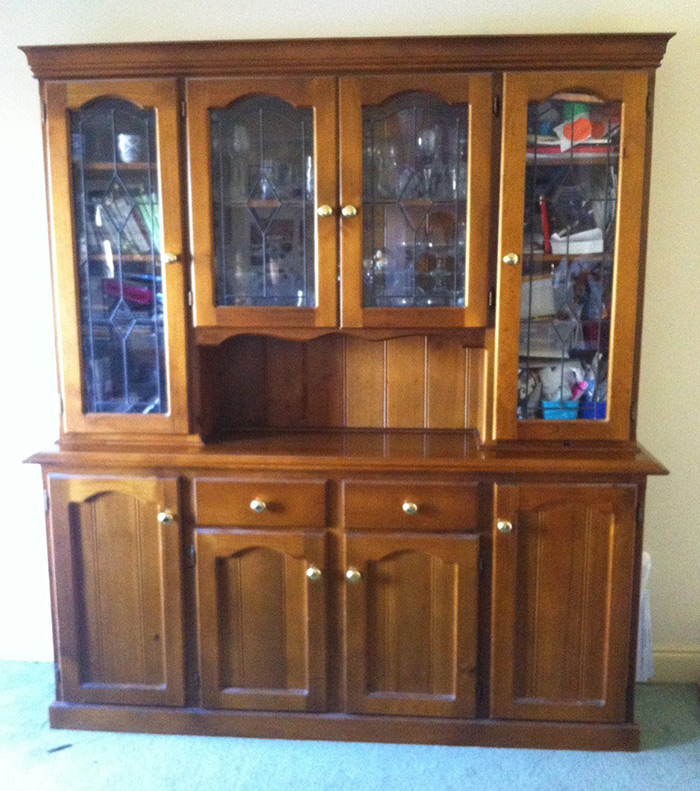 The lead light doors are absolutely stunning, but not part of my vision so they'll be going back on eBay and will no doubt make some lucky wood crafter very happy! When hubby & I went to collect this piece it was SO much bigger than I anticipated…..in fact I was a bit scared of it! But I was in neck deep and the only way was forward! I have had this gorgeous piece by Marian (Miss Mustard Seed Marian) in my 'LOVE THIS' folder for ages.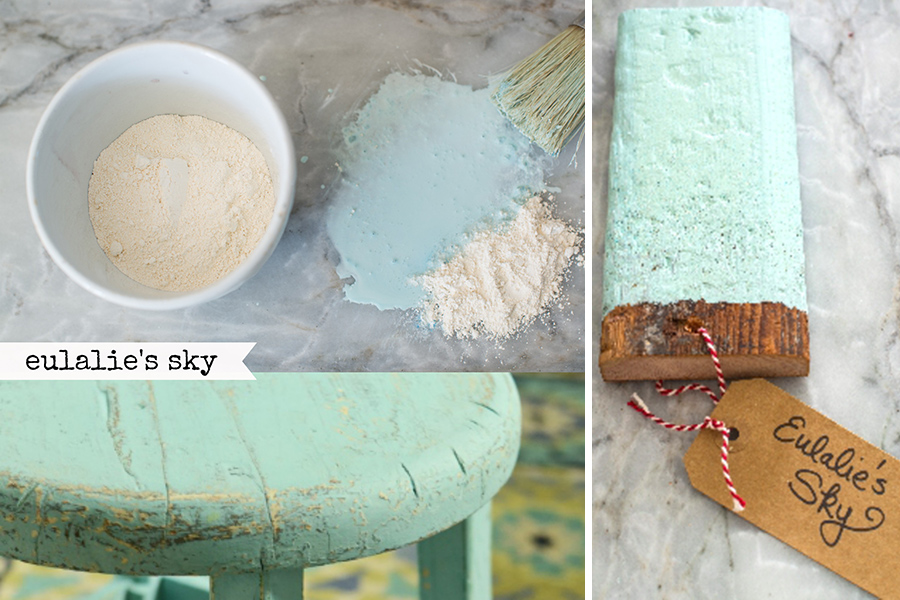 It's painted in Eulalie's Sky (always a hands down favourite for me) & Ironstone. So I decided this was the piece to do these gorgeous colours on.
Now although Miss Mustard Seed's Milk Paint can be painted straight onto a lightly sanded varnished surface by adding bonding agent to the paint, I have found that Ironstone in particular is very transparent and can take many coats for full coverage over a darker wood. So I took a short cut with this piece and used a white primer under the Milk Paint. This way I only needed two coats (and a touch up one) instead of 5-6 coats. Winning!
I added my Efex Decorative Appliqués before the primer too, then painted straight over them. The easiest way to glue on these appliqués is with contact cement and the best I've found for the job is Selley's Kwik Grip (red tube)which is what I used on this piece.
So 5 days later….this is what this ugly duckling became….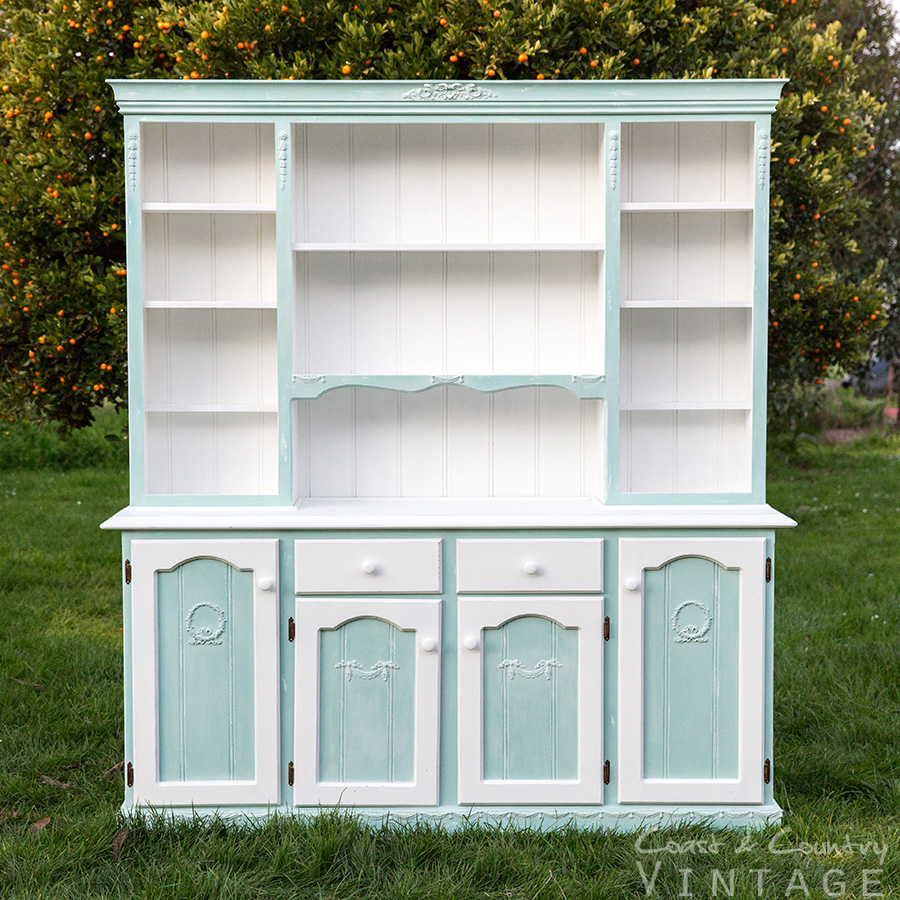 It was instant love for me 🙂 I coated the whole piece with a layer of Miss Mustard Seed's Clear Furniture Wax  to seal and protect the paint and then went over the Eulalie's Sky and Appliqués with Miss Mustard Seed's White Wax to add a white washed look and to give the Appliqués definition.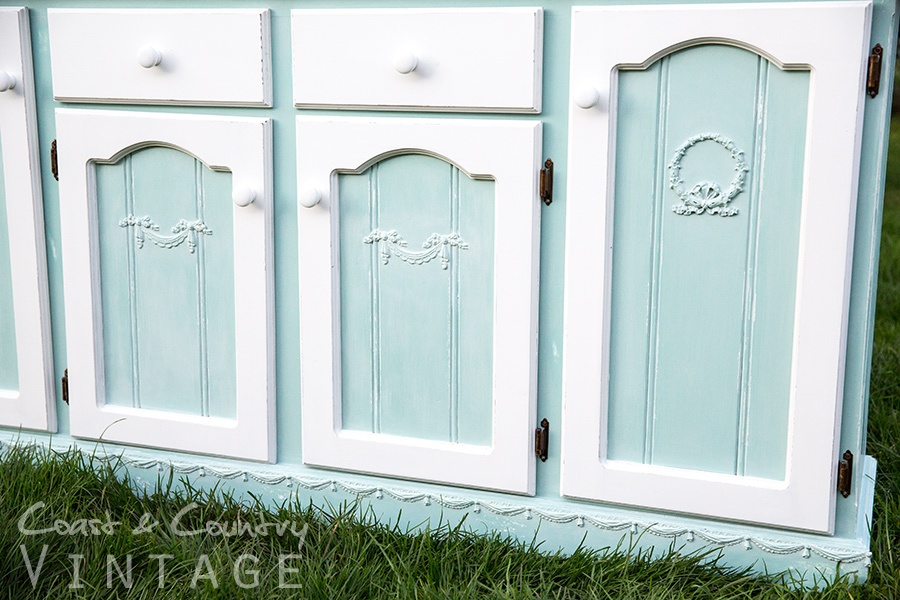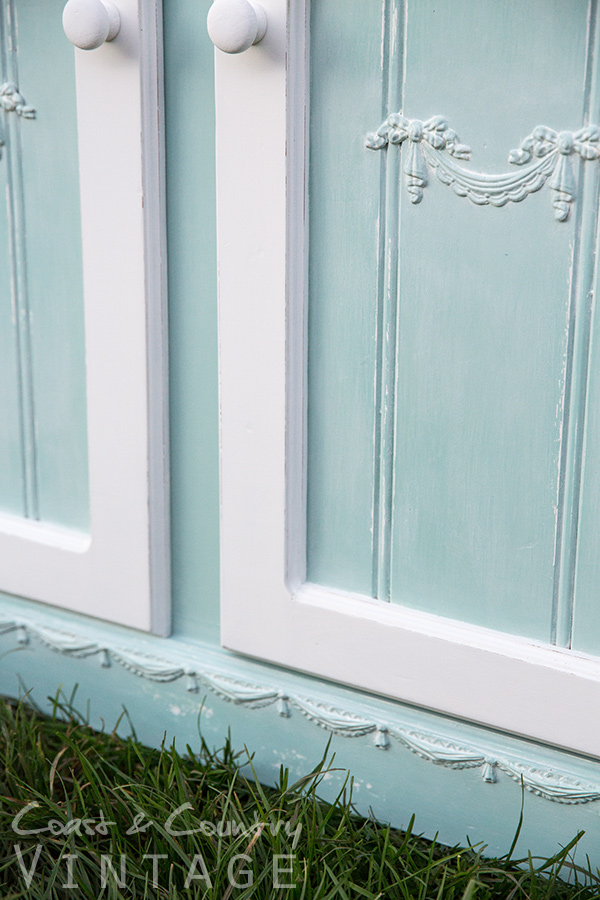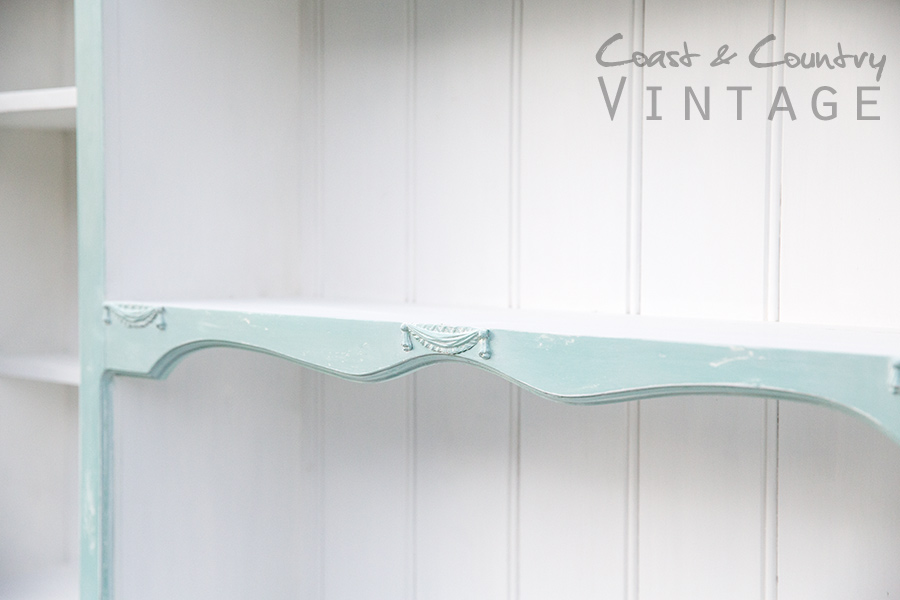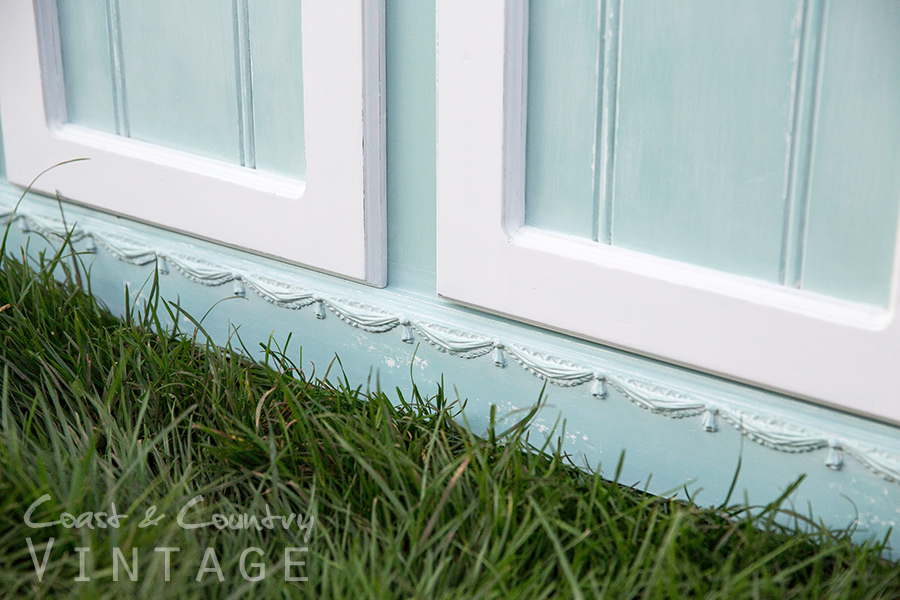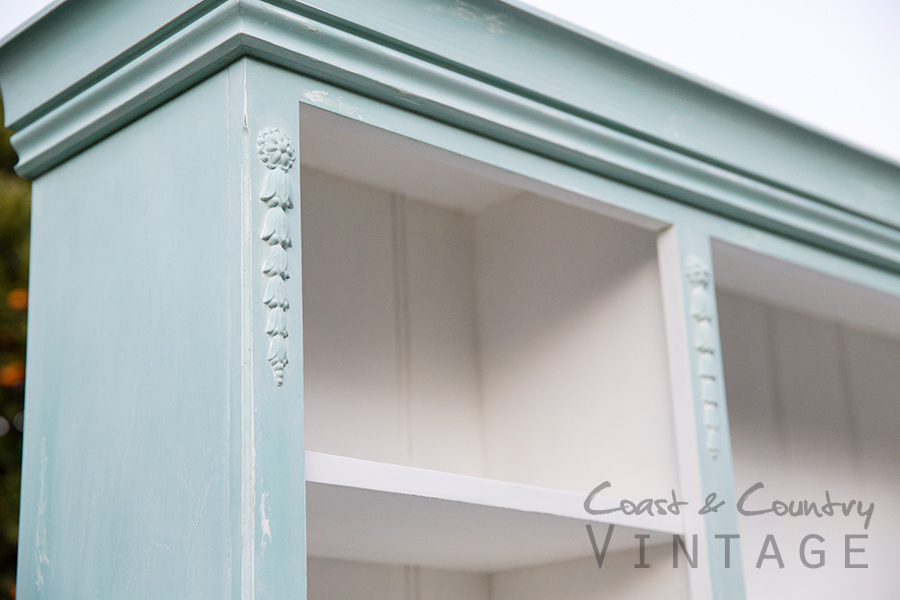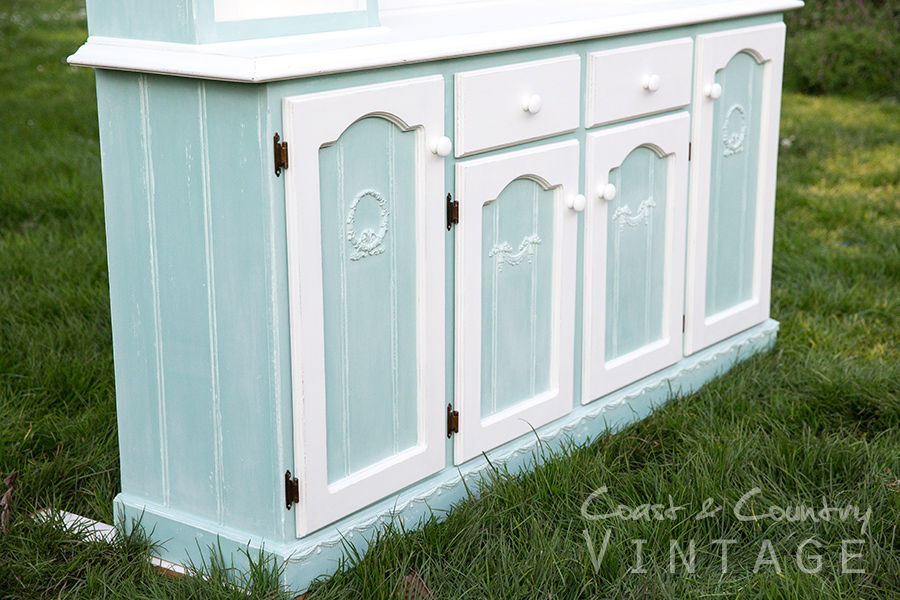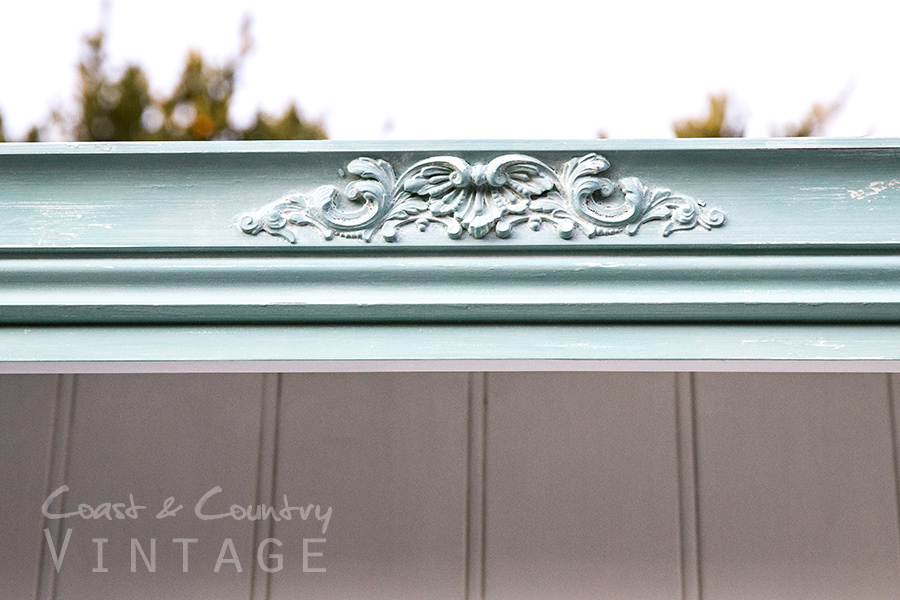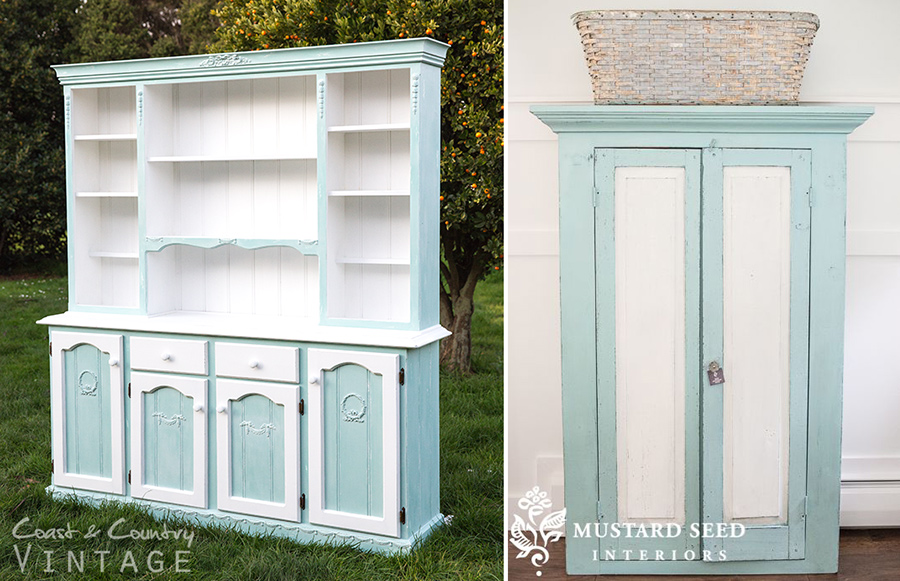 I think the beautiful tones in this colour combination with really compliment the colours in the Miss Mustard Seed range packaging and will make a very pretty display 🙂
Efex Decorative Appliqués and Miss Mustard Seed's Milk Paint are available for purchase in my stall space at the Waverley Antique Bazaar or in my store at the Cowes Bazaar & Gallery on Phillip Island. You can also order them online via my Website here  and I post Australia wide.
 email me if' you'd like details the next Milk Paint Workshop!