I've been meaning to share this one for some time now but there always seems to be something else more pressing to take my time away from the computer.
I'm very proud of this piece…I think it's probably the 'prettiest' piece I've worked on so far. This beautiful French style Amoire that has become affectionately known as 'Big Sister'.
She was so named as she is identical to a French Amoire I painted last year…who has now been dubbed….you guessed it…..'Little Sister'!
This was Big Sister before her makeover…..beautiful lines & great bones, but quite scratched and the damage was quite severe in places, especially inside the doors.
It's exterior is a kind of veneer and yet has an artificial feel to it so not quite sure exactly what it is. It had bubbled and crack in places like veneer often does.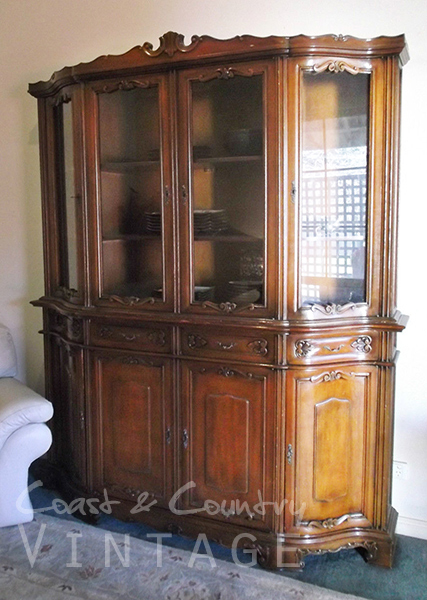 I filled all the damaged areas and painted the interior with a water based semi gloss in Antique White USA before transforming the outside with Fusion Mineral Paint in the colours 'Sterling' ( a light silver grey) and Champlain (a creamy vintage white) on the details. It looked very pristine & pretty but I wanted it to look authentically old.
One of the most wonderful things about Fusion is that you don't *need* to seal it with anything. Leave it the full 30 days it requires to fully cure and it provides a truly durable surface. You can even use it on exterior furniture without a top coat!
However….I wanted mine to have a certain look, so I waxed it with a couple of coats of Miss Mustard Seed's Clear Furniture Wax, followed by a decorative coat of Miss Mustard Seed's Antiquing Wax which I rubbed all over with my Wax Brush then wiped off almost immediately. (the longer you leave the wax to dry the darker the effect will be as less as the wax dries and hangs on)
I am in love with the finished piece and I smile every time I see Big Sister 🙂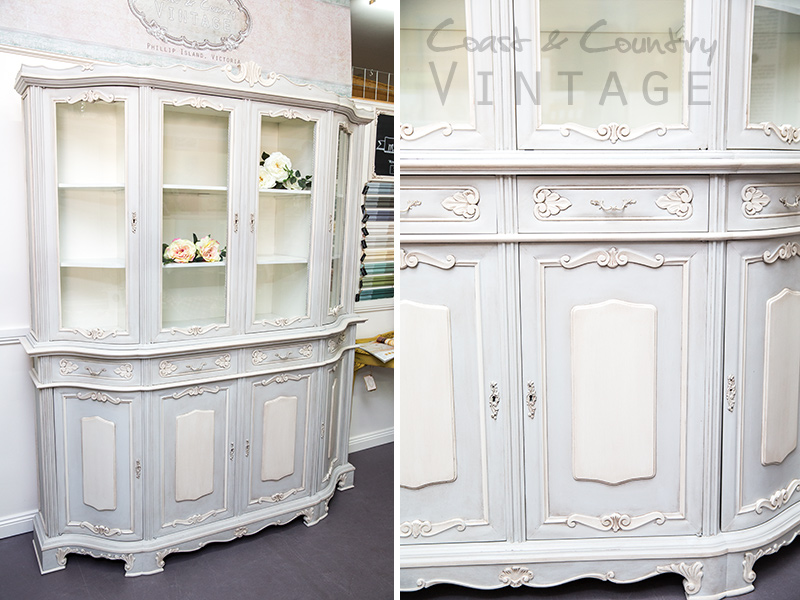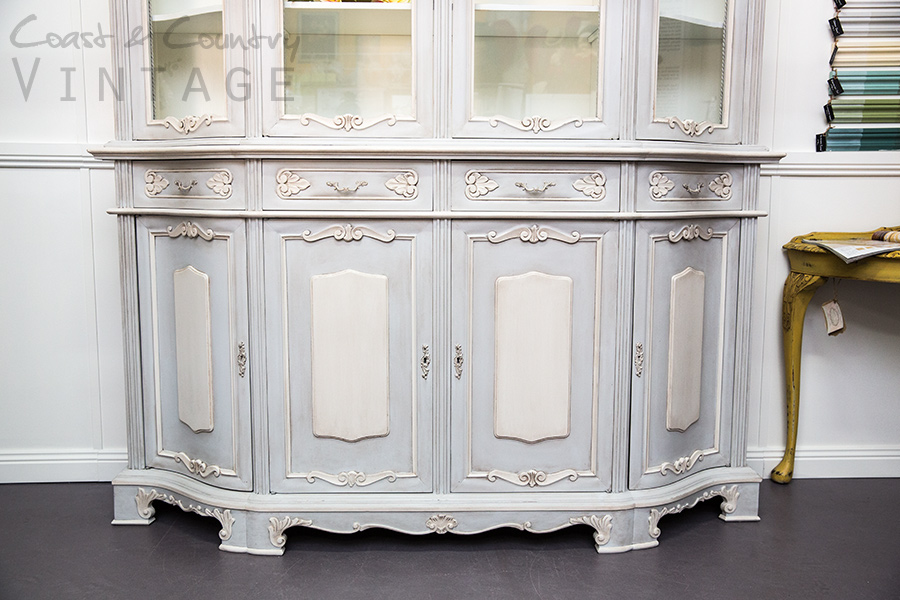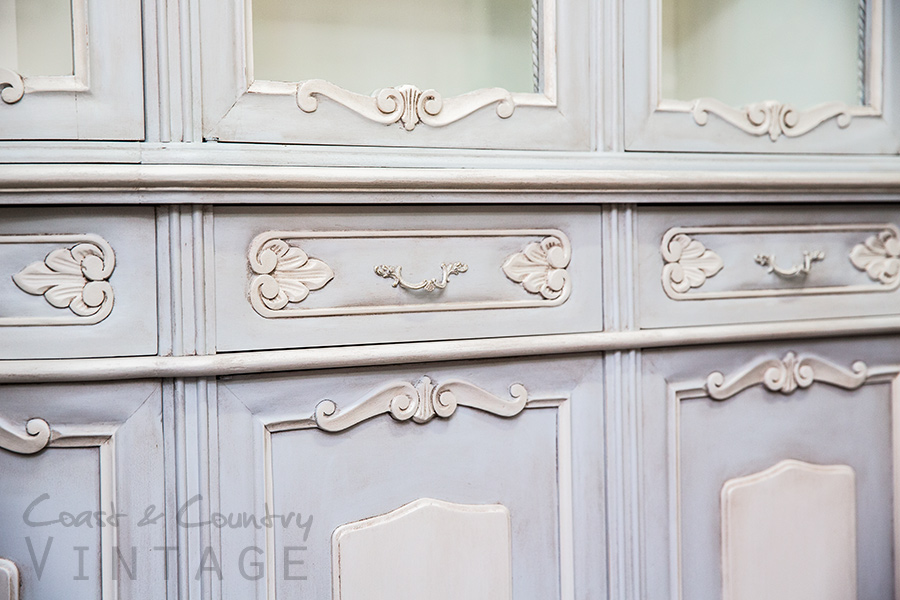 Big Sister now has the important job of displaying all my Fusion Mineral Paint and Miss Mustard Seed Milk Paint so if you'd like to have a closer look just pop into the Cowes Bazaar & Gallery at 158 Thompson Avenue, Cowes, Phillip Island. Make sure you have half a day though as the Bazaar is full of vintage treasures and boasts a coffee shop that makes an excellent brew!
Unfortunately being so big I had no option but to photograph this piece on site and the fluro lights and opposing bright yellow wall have added some very weird colour casts to my images. Rest assured there is no pink or green to be seen anywhere on this pretty piece 😉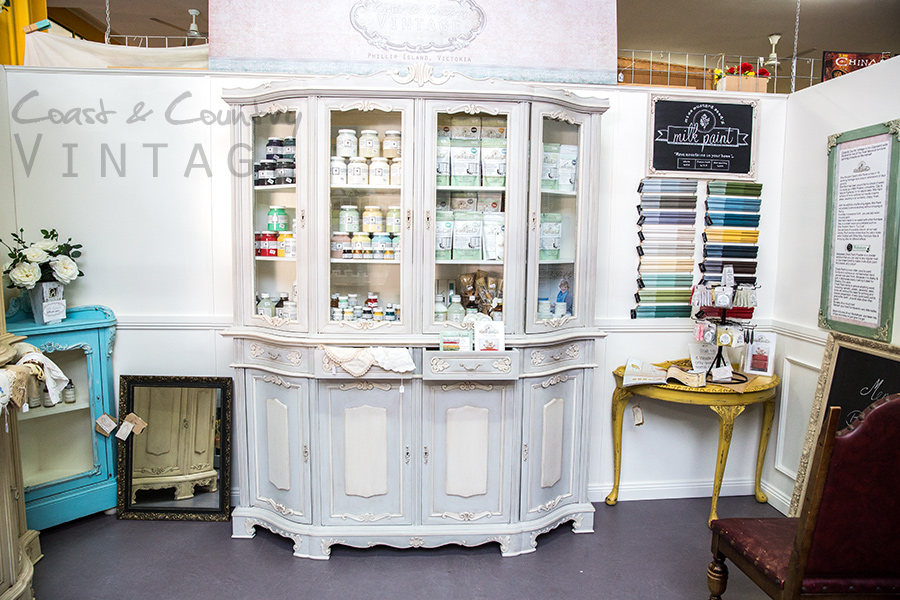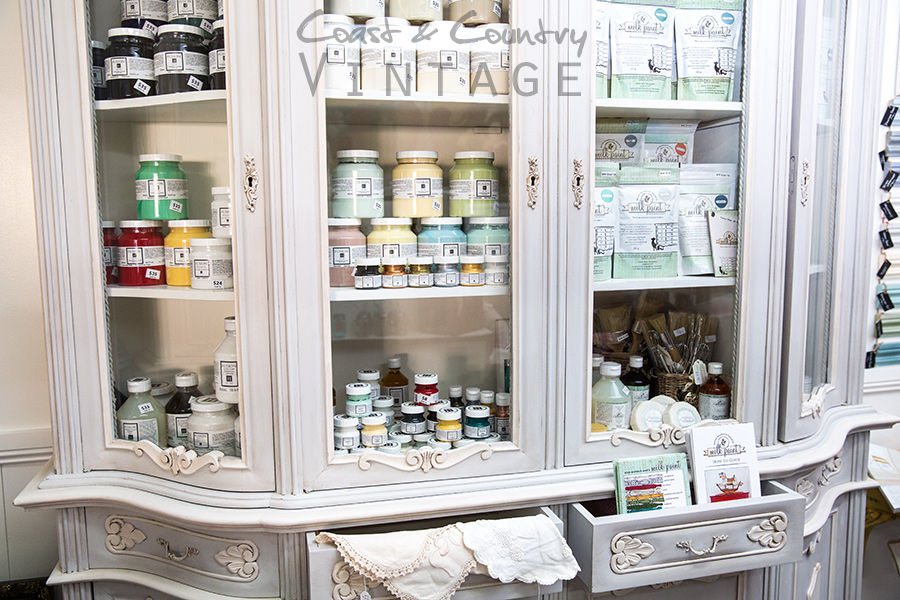 A rare photo! For just two weeks Big Sister & Little Sister  shared the limelight in my space at the Cowes Bazaar & Gallery before Little Sister went to her new home.
 Before & After 🙂 From a dark heavy Italian Style to French Provincial. <3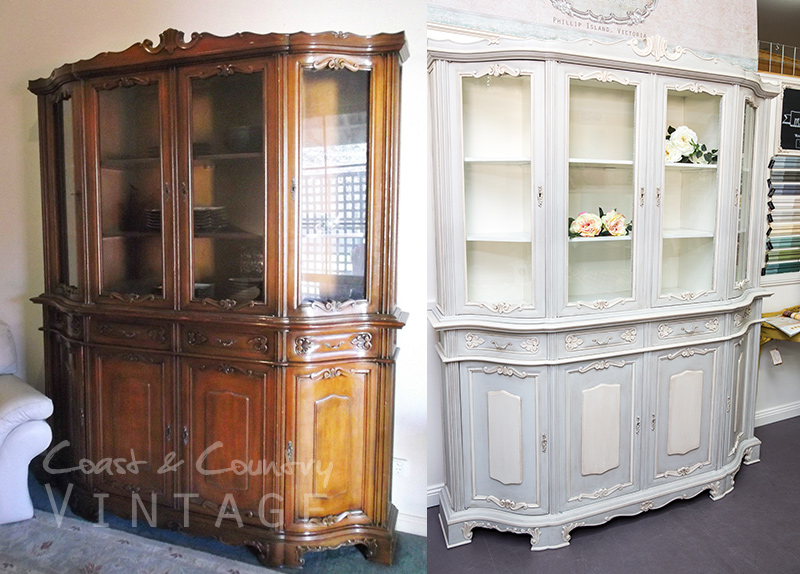 I'm just so in LOVE with Fusion Mineral Paint. It's like painting with cream and the coverage is superb, especially from the more highly pigmented colours. If you'd like to give it a try, you can by sample pots for just $9 from my website. A sample pot is perfect for a few frames or a box or even a children's chair…just to see how delightful it is before you buy a full pot! I also love that it's sold in 500ml pots rather than one litre…because I get tired of using the same colour and want to try something new for each piece. I have a tonne of half used one litre tins of chalk paint in my cupboard which is very wasteful!
Big Sister is pretty huge and I used 2 pots of Sterling & 1/2 Pot of Champlain for full opaque coverage. Painting light colours over dark always requires more coats for opaque coverage. If changing from a dark colour to light, it's a great money saver to do your first coat with Fusion's Colour Blocker which is only $20 for a 500ml pot and will give you a good solid colour base so you'll need less of your more expensive paint. I painted Big Sister before I had Colour Blocker on hand but it would probably have saved me a pot of Sterling. I've just realised that I don't have my Colour Blocker even listed on my site! My bad and it will be there before I retire today 😉
Here's a pic that shows the coverage you can expect from Fusion Mineral Paint. A Pint is 500mls 😉