When I saw this adorable little children's bench seat on Ebay a few months back, I had to have it. It was too expensive but unusual enough that I decided to buy it anyway. It had awful 'home done' upholstery but the frame was so detailed that I could instantly picture it with a French Theme in a dark cream with antiqued details.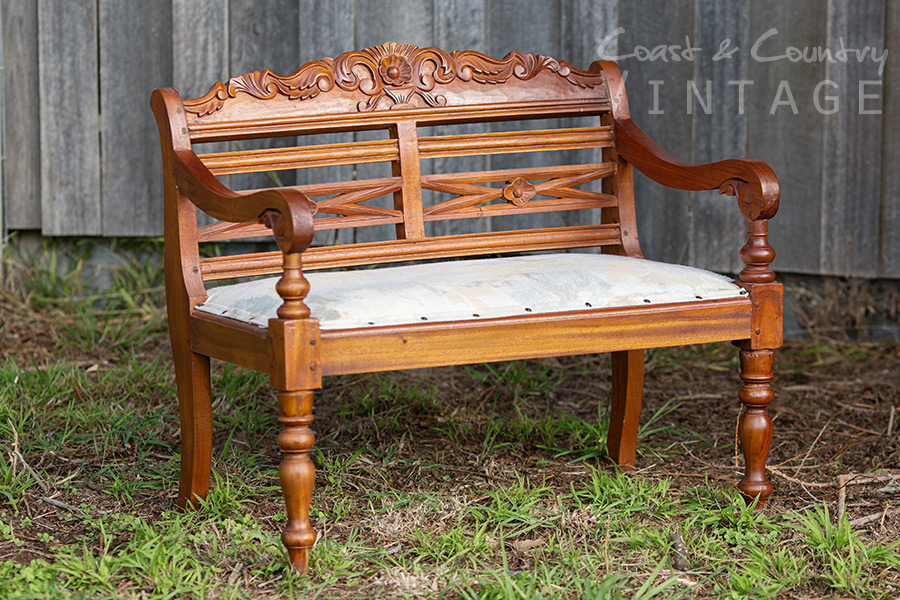 I know some people will prefer it in it's natural wood state, but  although it was pretty, I knew it could SING! I pulled off all the dreadful pink and grey upholstery (it's a little hard to see how awful it was in the photo but believe me….ewww!) and mixed up a lovely deep cream coloured Haymes paint with some Webster's Chalk Paint Powder to make Chalk style Paint, and got started. As soon as the first coat went on I knew I'd done the right thing.One more coat of the cream and onto waxing. I have to say that waxing is one thing I used to loathe. Such hard work and I was never quite happy with the finish (a little streaky and uneven). That was until I discovered a little (but now growing!) company in Australia called L'Essentiel, who make low solvent (and gorgeous smelling!) waxes and decided to give it a go. I've heard people say before how harsh the true solvent based waxes can be on your skin and your lungs and being an environmentally conscious kinda gal I was excited to find an alternative. I was sold from the very first try. One of the things I love so much about the L'Essentiel range of waxes is the ease with which they can be applied. Honestly they wipe on like butter. No elbow grease needed and best of all a lovely smooth finish…that smells amazing too. L'Essentiel waxes are chemical and natural enough that you can use the clear wax as a lip balm (or even on your baby's bottom I am told!). Ticks all the boxes for me! My children's bench was given two coats of L'Essentiel Clear Wax and one coat of L'Essentiel Dark Wax, wiping off the excess and leaving it in all the detailed areas to highlight the nooks, crannies and carved areas. It gives the piece a delightfully authentic aged appearance that is very natural. What do you think? Cute huh!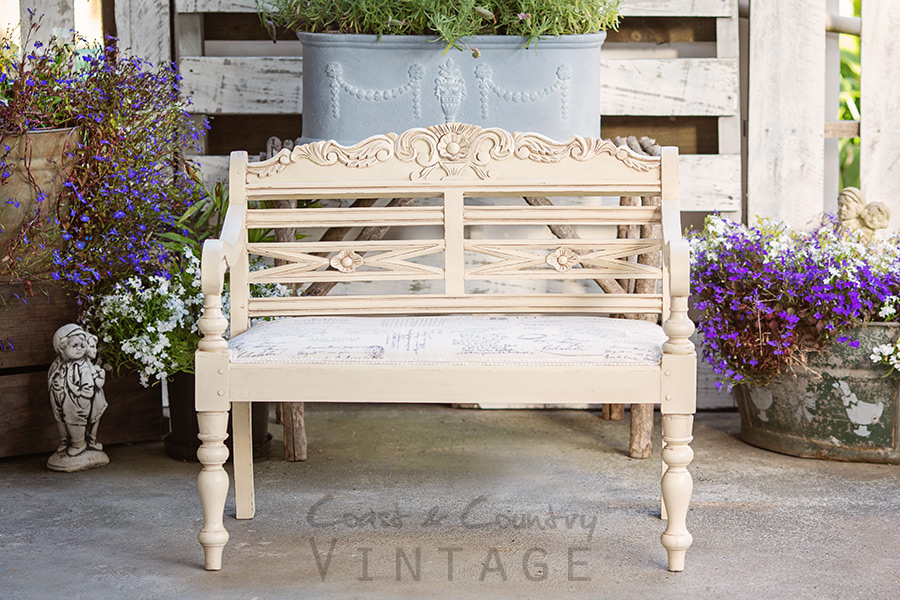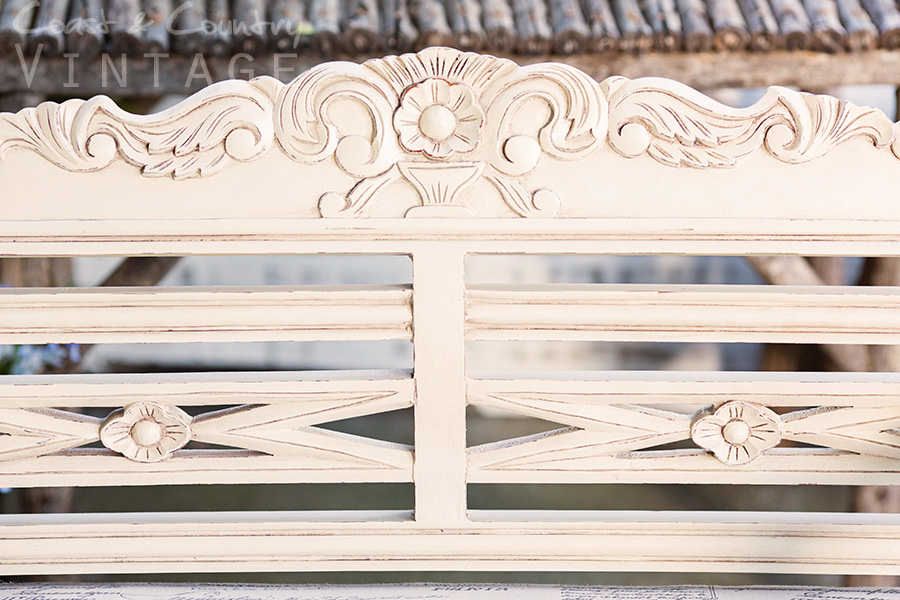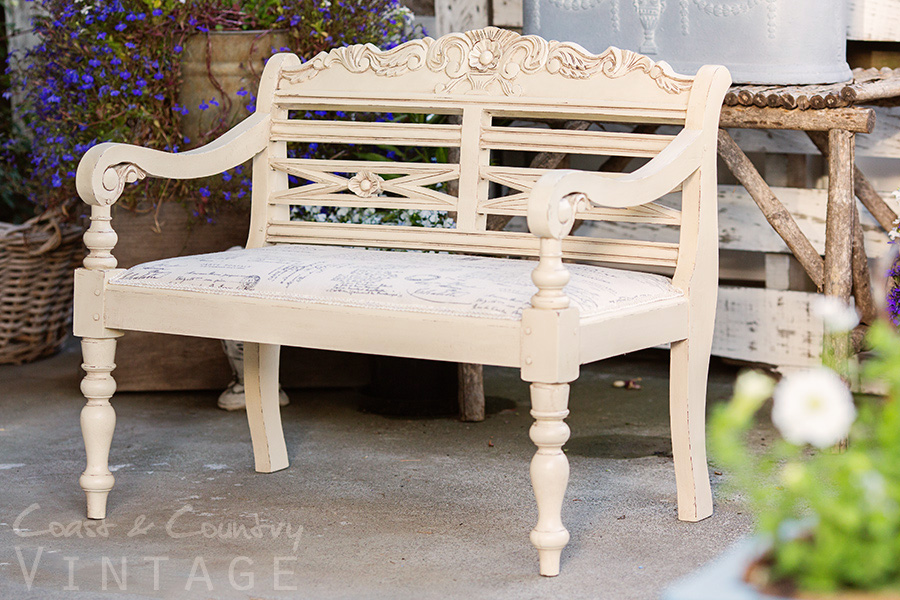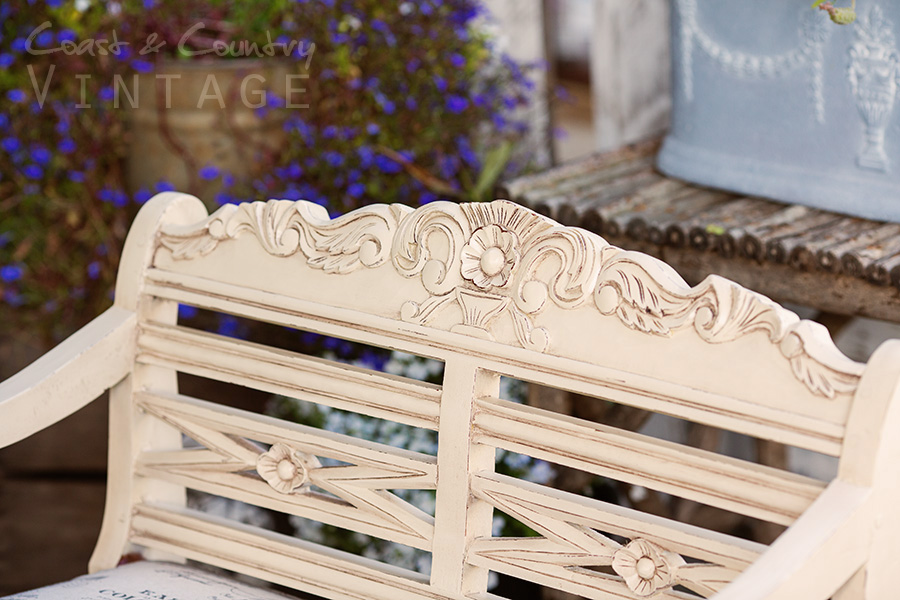 I chose a pretty French Script upholstery fabric for the seat and edged it with a dainty braid. From Country, to French, just like that!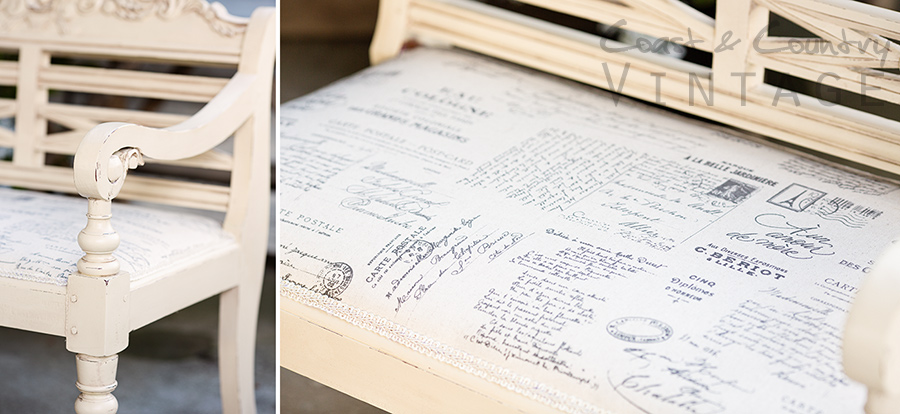 This piece is the perfect size for two small children to sit and chat on and would make a fabulously unique photo prop. I can also picture a bunch of  Teddy Bears or Dolls sitting pretty on this bench. So many possibilities and I am pretty sure you won't find another like it anywhere soon!

The piece is rough sawn and rustic but smooth, solid and splinter free. It's now available for purchase for $265. *SOLD*