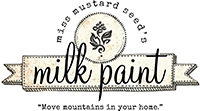 MISS MUSTARD SEED'S MILK PAINT WORKSHOP:
Berwick - Sunday May 28th 10am - 3.30pm. 6 spaces available. $185 per person.
Milk Paint is the only paint product that enables you to achieve an authentic 'chippy' finish or you can choose to add a bonding agent for a full opaque finish.
Milk Paint is not for perfectionists but rather for those who embrace all things 'rustic and imperfect'. It's quirky, it's unique and it often has a mind of it's own but you are guaranteed a unique finish that's not possible with chalk paints.
Milk Paint contains no VOC's or nasties so is very safe to use and the gorgeous colour range will leave you struggling to choose a favourite. It sands to a silky smooth finish that is almost like ceramic to the touch.
In this hands on workshop you will learn all you need to know to begin creating your own projects using Milk Paint with professional results and assurance of success.
This is a Milk Paint 101 class that will teach you everything you need to know to master the art of painting with Milk Paint from whoa to go!
*Tips for choosing the best furniture pieces to paint.
*Simple surface preparation.
*Mixing Milk Paint for the best consistency.
*Mixing Milk Paint for use as a stain.
*Work on a series of small take home projects to try all the Miss Mustard Seed products on the day whilst learning various techniques.
*Learn how and when to use Bonding Agent experiment with Furniture Wax, Antiquing Wax ,White Wax,Hemp Oil & Tough Coat to achieve various finishes & looks.
*Learn the art of distressing for an authentic look aged look and how to achieve the wonderful 'chippy' look that Milk Paint is known for.
Make new friends with like minded people whilst learning how to update your home affordably!
All materials supplied including afternoon tea.
EMAIL ME
to reserve your spot!
All materials supplied including morning tea. BYO Lunch only!
Limited places available for each class.


EMAIL ME
to reserve your spot!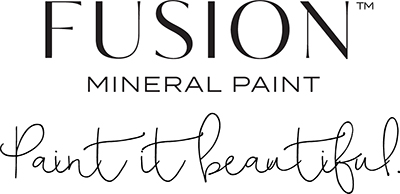 FURNITURE PAINTING 101 WORKSHOP:
Glen Waverley - Saturday June 3rd 10.00am - 3.30pm. 6 spaces available. $195 per person.
This class is a true 101 class. By the day's end you have all the know how you need to up-style your old furniture & create unique pieces that will be the envy of all your friends!
This workshop requires you to bring along a small piece of furniture to work on. You'll learn how to prep your piece properly, correct brush technique for both minimal brush marks and extra texture. Learn how to use furniture waxes and glazes to age and/or enhance your projects. Play with White Wax and Antiquing Wax to change the whole look and feel of your piece and how to make a coloured glaze!
Learn the pitfalls to watch out for when painting your own pieces and fast track your learning with expert advice & tuition. A small extra project will give you hands on experience in applying Efex Appliques and how to create a sharp stencil.
Lots of learning, new friends to be made, creative juices to unleash!
Our product of choice for this workshop is Fusion Mineral Paint . .
All materials supplied including morning tea, pot of Fusion Mineral Paint in the colour of your choice and a beautiful Cling On brush to take home..
BYO lunch.
No experience necessary and even if you don't see yourself as particularly 'crafty' you are guaranteed to love this workshop!
EMAIL ME
to reserve your spot!
NB: If you wish to do both this workshop and the Milk Paint workshop I would recommend you do this one first unless you have some experience with painting furniture already.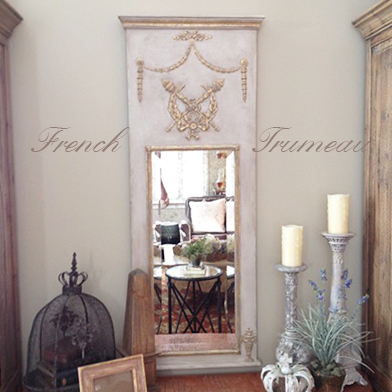 FRENCH TRUMEAU MIRROR:
Glen Waverley - Saturday June 17th 10.00am - 3.30pm. 6 spaces available. $220 per person.
Are you a lover of all things French? Then chances are that you are smitten with French Trumeau Mirrors just like I am! Unleash your creativity during this hands on workshop and create your own French Trumeau masterpiece with the help of Efex Decorative Appliques and Fusion Mineral Paint!
Embellish your finished masterpiece with the gorgeous range of metallic and opalescent decorative waxes from the Finnabair Art Alchemy range and take home a piece you'll treasure forever! Your own design and your own colour pallette
This is the first time this workshop has been offered so secure your spot now!
EMAIL ME
to reserve your spot!
---
Want a workshop in your town? Simply gather 6 ladies who are keen and we will make a date for a workshop!
If you would like to organise a workshop in your area send me an email! I need a minimum of six people to proceed.