Upcoming Workshops.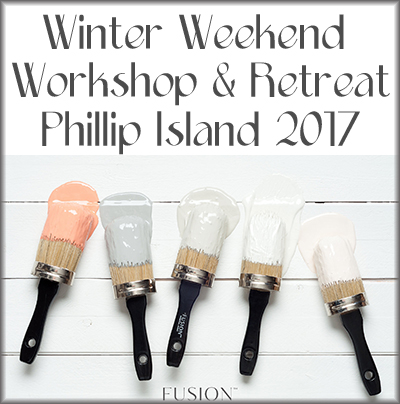 WINTER WEEKEND WORKSHOP:
4pm Friday July 28th – Sunday 4pm July 30th.
$590pp includes all meals, all accommodation, all materials plus expert guidance and projects to further your skill set for the whole weekend.
Bring your own larger piece to paint with either Fusion Mineral Paint or Miss Mustard Seed's Milk Paint.
Play with Efex Decorative Appliques, Fusion's Fresco and I.O.D Transfers & Stamps.
No husbands, no kids….just you and 8 other ladies who love painting stuff as much as you do!
Last year was a blast! *3 spots remaining*
From two of last years attendees…..
"Had the opportunity to attend Hayley's first Weekend Workshop Retreat last year and so pleased I didI I learned so many new techniques, tips and tricks and got to play with loads of different mediums. Made new friends and laughed so much my sides hurt, but that could also have been my pants pinching me from the amount of amazing food I consumed prepared by the lovely Julia. A totally indulgent weekend where the only thing I had to do was paint! I will definitely be attending again! Can't wait! Soooo much fun!"
'I was fortunate enough to attend Hayley's Weekend Workshop retreat last year. The knowledge attained & the opportunity to learn & experiment with different paint & techniques & products was invaluable & all under the direct guidance of the wonderful Hayley. The only thing I had to worry about for the weekend was where my paint brush was as all food & lodgings were provided by the beautiful Julia (you won't need to eat for a week afterwards so much lovely food….. 3 meals & morning & afternoon tea & supper, just BYO alcohol) So much fun & laughter… so many pieces of beautiful furniture completed… so many new friends …. & so much new knowledge…. I won't be missing this years retreat, I've already paid for my spot!!!' 🙂
EMAIL ME to reserve your spot!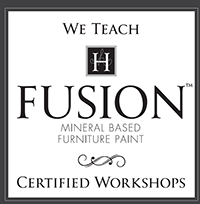 FURNITURE PAINTING 101 WORKSHOP:
Glen Waverley – Saturday September 9th 10.00am – 4.00pm. 8 spaces available. $185 per person.
This class is a true 101 class. By the day's end you have all the know how you need to up-style your old furniture & create unique pieces that will be the envy of all your friends!
This workshop requires you to bring along a small piece of furniture to work on. You'll learn how to prep your piece properly, correct brush technique for both minimal brush marks and extra texture. Learn how to use furniture waxes and glazes to age and/or enhance your projects. Play with White Wax and Antiquing Wax to change the whole look and feel of your piece and how to make a coloured glaze!
Learn the pitfalls to watch out for when painting your own pieces and fast track your learning with expert advice & tuition. A small extra project will give you hands on experience in applying Efex Appliques and how to create a sharp stencil.
Lots of learning, new friends to be made, creative juices to unleash!
Our product of choice for this workshop is Fusion Mineral Paint. 
All materials supplied including morning tea, pot of Fusion Mineral Paint in the colour of your choice and a beautiful Cling On brush to take home..
BYO lunch.
No experience necessary and even if you don't see yourself as particularly 'crafty' you are guaranteed to love this workshop!
EMAIL ME to reserve your spot!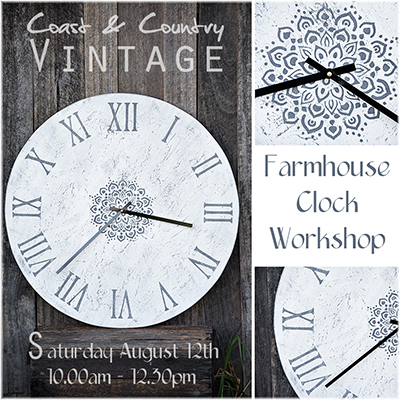 FARMHOUSE CLOCK WORKSHOP
Glen Waverley – Saturday August 12th 10.00am – 12.30pm. 8 spaces available. $135 per person.
Use Fusion's Texturising Medium 'Fresco' & Fusion Mineral Paint to create your very own Giant Farmhouse Clock!
These clocks are a true statement piece at 600mm in size and will be a focal point of any home.
Use your own colour scheme to create your one of a kind masterpiece whilst learning the art of using Fresco to create texture & dimension to your work.
This workshop will also teach you how to create the perfect stencil every time.
Booking into both this workshop and the Rustic Sign Workshop on the same day and do both classes for $230!
EMAIL ME to reserve your spot!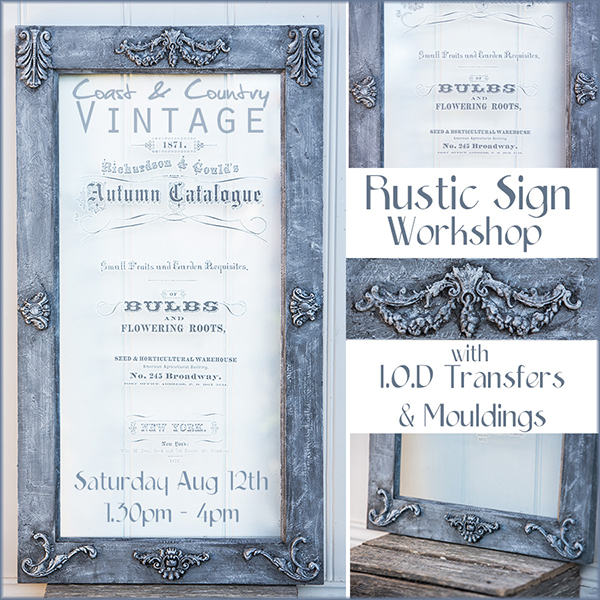 RUSTIC SIGN WORKSHOP
Glen Waverley – Saturday August 12th 1.30pm – 4.00pm. 8 spaces available. $135 per person.
Learn to create your own appliques using I.O.D (Iron Orchid Decor) moulds and create your own Rustic Sign from an old kitchen cupboard door.
You'll learn the art of using Fusion's texturising medium 'Fresco' to create texture & dimension and how to use a colour wash or glaze to crate depth and contrast.
Finish your piece with a stunning transfer from the I.O.D transfer range and your masterpiece is ready for display! Apply your new found skills to any furniture piece or décor item. The sky is the limit!
Book into both this workshop and the Farmhouse Clock Workshop on the same day and do both classes for $230!
EMAIL ME to reserve your spot!